Minecraft PS3 Skin Pack Includes Nathan Drake, Sly Cooper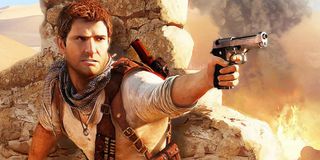 4J Studios has released a new screenshot of the first skin pack for Minecraft PS3 Edition. The image shows some of the iconic PlayStation characters appearing in the PS3-exclusive DLC.
The character on the left is Uncharted hero Nathan Drake. The skin appears to be based off of his appearance from Uncharted 3. Opposite him is Sly Cooper, the raccoon thief who stars in a PS2/PS3 series of the same name.
The third character is harder to make out because how dim the picture is. However, it looks to be a figure in black body armor with bright eyes - maybe a Helghast trooper from Killzone? Here's a zoomed-in version of that section of the screenshot, along with picture of a Helghast for comparison's sake:
Killzone is a prominent first-party franchises for PlayStation so I'd be shocked if there wasn't at least one character from that series in the DLC. The Helghast are the unofficial mascots of the series so why not feature them in the DLC? Heroes like Sev or Rico aren't nearly as recognizable.
While this DLC is exclusive to the PS3 version, you can't accuse 4J Studios of playing favorites. The Xbox 360 edition of the game previously received exclusive skins of their own based on Gears of War and Left 4 Dead characters in Skin Pack 2.
The PS3-exclusive Skin Pack will likely include much more than just this trio of characters. The main Skin Packs for the Xbox 360 edition have 45 skins each. It's unlikely that all of the skins in the DLC pack will be based on PlayStation-exclusive characters, though. 4J will probably do what they did with the Xbox 360 add-ons and mix in "generic" skins like animals or monsters with the video game character skins.
4J is also working on Title Update 14 for the PS3 and Xbox 360. This patch will introduce anvils and trading to the game. There's also a possibility it could add the Wither boss and adventure mode as well.
The new screenshot from 4J mentions another possible feature for TU14. The menu in the middle of the screen says "Kan teleportera," which is Swedish for "can teleport." This suggests that console players will be able to teleport once the patch goes live.
Your Daily Blend of Entertainment News
Staff Writer at CinemaBlend.