Minecraft PS3 Edition Launching This Week, PS4 And Vita Versions Coming In 2014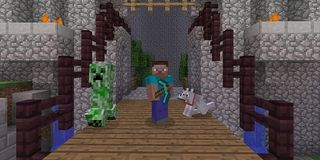 Minecraft will finally make its PlayStation debut this week. Minecraft PS3 Edition will be available for download through PSN on December 17th in North America and on December 18th in Europe.
If you've somehow managed to avoid reading anything about Minecraft in the past few years, Mojang's Owen Hill provided a succinct summary on the PlayStation Blog:
Minecraft PS3 Edition has all of the content featured in its Xbox 360 counterpart, including split-screen multiplayer and tutorials. Hill says that the console versions will be developed in tandem moving forward.
The PS3 version will be receiving premium skin and texture packs much like the Xbox 360 version. They should begin hitting PSN in the near future. PS3 gamers may also get PlayStation-specific DLC (Ratchet and Clank skins? Killzone texture packs?) as well. Hill didn't make any promises, though.
PS4 and PS Vita versions of Minecraft are in development as well. Their release dates are unclear but they're slated for "sometime next year." It's not clear yet whether the PS3 version will be cross-compatible with those versions.
Minecraft debuted on the PC back in 2009 and then spread to mobile devices and the Xbox 360 in 2011 and 2012, respectively. Last week, Mojang revealed that the 360 version has sold 10 million copies and the PC version has sold 13 million.
Mojang and 4J Studios are also working on an Xbox One edition. Presumably it'll be out in 2014 as well.
Image 1 of 5
Your Daily Blend of Entertainment News
Staff Writer at CinemaBlend.