Minecraft Skin Pack 6 Released On Xbox 360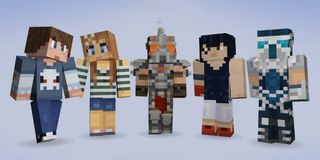 Minecraft players on Xbox 360 have a new DLC pack waiting for them on Xbox Live. Skin Pack 6 can be downloaded starting today for $1.99.
Skin Pack 6 introduces over 40 new skins to Minecraft Xbox 360 Edition. The games represented in the bundle include Killer Instinct, Dragon Age 2 and several others. 4J Studios threw in some miscellaneous characters too, like soldiers and villagers. Here's the full list of characters included:
Spinal – Killer Instinct
Fulgore – Killer Instinct
Jago – Killer Instinct
Sabrewulf – Killer Instinct
Glacius – Killer Instinct
Thunder – Killer Instinct
Sadira – Killer Instinct
Orchid – Killer Instinct
Horse Man
Villager Priest
Villager Butcher
Villager Librarian
Villager Blacksmith
Villager Zombie
Hawke Female – Dragon Age
Hawke Male – Dragon Age
Flemeth – Dragon Age
Varric Tethras – Dragon Age
Fenris – Dragon Age
Isabela – Dragon Age
Merrill – Dragon Age
Marcus Campbell – State of Decay
Maya Torres – State of Decay
Ed Jones – State of Decay
Shark Hoodie Guy – State of Decay
Doc Hanson – State of Decay
Jean Rambois – Super Time Force
Aimy McKillin – Super Time Force
Jef Leppard – Super Time Force
Shieldy Blockerson – Super Time Force
Commander Repeatski – Super Time Force
Zackasaurus – Super Time Force
Teen Girl
Teen Boy
US Soldier
British Special Forces
US Special Forces
Russian Special Forces
Modern Pirate
Anarchist Rioter
Rebel Fighter
Republican Guard
Faith – Mirror's Edge
Tech Boy – Trials Fusion
Drift Runner – Trials Fusion
You can try out Skin Pack 6 by downloading a free trial (opens in new tab). This lets you toy with a few of the characters. The trial is the same file size as the full version so you can probably unlock the additional skins as soon as you pay.
The question remains whether Xbox One will be getting this DLC as well. Minecraft is set to hit that console in August. Some Xbox 360 DLC will carry over to the XB1 version. However, 4J warned that other add-ons can't be transferred due to licensing agreements.
4J Studios let YouTuber Bigbst4tz2 have an early look at Skin Pack 6 this week. His gameplay video featuring the DLC's contents can be seen below.
Image 1 of 7
Your Daily Blend of Entertainment News
Staff Writer at CinemaBlend.