Minecraft Wii U Finally Announced, Release Is Days Away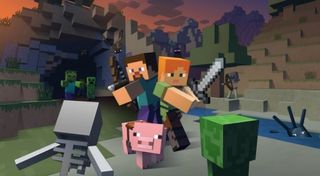 Nintendo and Minecraft are a match made in heaven that hasn't happened... until now. The duo have been missing each other on the highway of destiny ever since the game became a huge phenomenon, leaving a bunch of people asking: when will Minecraft come to Wii U? Well, now it's coming to the Wii U on December 17th.
Mojang announced the news with a trailer this weekend:
The trailer was accompanied by an official tweet from Nintendo of Europe, confirming that not only is the game coming to the Wii U, but it's coming before the month is out. It makes for the perfect Christmas present for little Timmy and Tabitha, as they unwrap presents only to find that Minecraft for the Wii U is happening.
According to the Eurogamer article, the game will feature off-screen tablet support and come jam packed with plenty of content, as well as additional add-on packs that can be purchased separately, including the following:
Add-ons included with the game
• Battle & Beasts Skin Pack
• Battle & Beasts 2 Skin Pack
• Natural Texture Pack
• City Texture Pack
• Fantasy Texture Pack
• Festive Mash-up Pack
Add-ons available at launch
• Festive Skin Pack
• The Simpsons Skin Pack
• Doctor Who Skins Volume 1
• Doctor Who Skins Volume 2
• Star Wars Classic Skin Pack
• Star Wars Rebels Skin Pack
• Star Wars Prequel Skin Pack
• Mass Effect Mash-up Pack
• Skyrim Mash-up Pack
• Plastic Texture Pack
• Candy Texture Pack
• Cartoon Texture Pack
• Steampunk Texture Pack
• Pattern Texture Pack
• Greek Mythology Mash-up Pack
• Halloween 2015 Mash-up Pack
It's nice to see they managed to squeeze that Star Wars stuff in there. Just in time for the release of the movie, too. Can't miss out on those Star Wars bucks.
Originally the game was outed by the PEGI ratings board, where they indicated that the game was going to be released back in November. It was just days before the big Nintendo Direct. Everyone assumed that Minecraft was going to be unveiled during the Direct, but it was a no-show.
Some people assumed that due to the PEGI leak that Nintendo opted not to reveal Minecraft during the Nintendo Direct, but there's no real telling if that was true or not. What we do know is that Nintendo and Microsoft closed enough of a deal to get the game out on Nintendo's Wii U before 2015 closes out.
Additionally, Eurogamer is reporting that there will be some exclusive Wii U content that developer Mojang makes for Nintendo's console. Keep in mind that since Microsoft owns Mojang, every single little piece of DLC, add-on pack and copy of Minecraft sold on Nintendo's devices is a slice of the financial pie in their pocket.
While originally a lot of people wondered if Mojang was worth what Microsoft paid for them, but if they can get a Nintendo 3DS pocket edition out there or develop cross-platform support between the 3DS and Wii U, they're looking at a few extra million sales from the long-running series.
Minecraft will be available on Nitendo's eShop starting December 17th.
Your Daily Blend of Entertainment News
Staff Writer at CinemaBlend.