Minecraft Xbox One And Xbox 360 Will Receive Halo 5 Characters This Week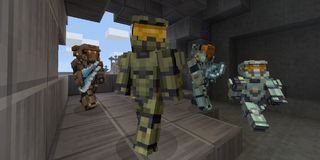 4J Studios is celebrating Halo 5's upcoming launch with some new content for Minecraft: Xbox One Edition and Minecraft: Xbox 360 Edition. Both versions of the building game will receive Halo 5 DLC this week with new skins.
This cross-promotion isn't surprising, considering Microsoft owns both Halo and Minecraft these days. What is surprising, though, is that the Halo 5 content isn't a standalone purchase. Instead, 4J Studios is updating the existing Halo Mash-Up Pack for the game for no charge (opens in new tab). The update will introduce these skins:
Blue Team:
Spartan-117 The Master Chief
Spartan-104 Fredric
Spartan-087 Kelly
Spartan-058 Linda
Fireteam Osiris:
Spartan Locke
Spartan Buck
Spartan Tanaka
Spartan Vale
These two sets of skins are based on the playable characters from Halo 5's co-op campaign. Players will switch off playing as each squad in Halo 5. The trailers from the game suggest that Fireteam Osiris is actually hunting Master Chief and his allies but I suspect they'll get their issues sorted out by the end and team up to kill the real bad guys.
The Halo Mash-Up Pack, priced at $3.99, includes a bunch of other content inspired by the series. Players will get access to Halo-themed textures, menus and craftable items. Pre-made worlds based on iconic locations from the series like Silent Cartographer, Sandtrap, Valhalla, and Blackout are also included. Sergeant Johnson, the Arbiter and Cortana are some of the dozens of skins in the pack. To complete the Halo experience, 4J also threw in 31 music tracks from throughout the franchise.
Halo 5, meanwhile, is due on October 27th. Footage and information from the game has been popping up everywhere now that some early copies of the game are out in the wild. You can watch the first 30 minutes from the campaign here and find out the Achievements here.
Staff Writer at CinemaBlend.
Your Daily Blend of Entertainment News
Thank you for signing up to CinemaBlend. You will receive a verification email shortly.
There was a problem. Please refresh the page and try again.