Minecraft Xbox 360 Edition Will Add Doctor Who Skins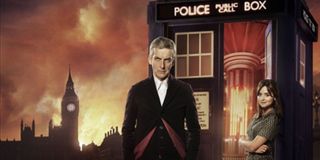 Mojang and BBC announced today that Doctor Who is coming to Minecraft Xbox 360 Edition. The long-running TV series will appear in the open-world building game through themed Skin Packs.
The first Doctor Who DLC for Minecraft will debut sometime in September. The announcement on PlayXBLA says it will include the twelfth Doctor along with five other incarnations of the character. Their companions will also be included along with a few enemies like the Daleks.
Minecraft isn't revered for its visuals. Still, they've managed to do a decent job of recreating the Peter Capaldi's Doctor. Here's a side-by-side comparison of the TV and Minecraft versions of the character.
It's unclear how many Doctor Who Skin Packs will be released in total. They'll need at least two if they want to have all 12 Doctors in Minecraft, though. There have been over 800 episodes of the show to date so there are plenty of characters to fill additional DLC packs.
These Doctor Who add-ons are the latest in a string of licensed DLC packs for Minecraft. The game previously received several Marvel characters like Spider-Man, the Guardians of the Galaxy and the Avengers. Characters from other games like Killer Instinct and Halo have also been released through Minecraft.
It's unclear whether the Doctor Who DLC will be released for the game's Xbox One version too. Minecraft's Xbox One edition could be out as early as September. Some DLC purchased for the Xbox 360 version will carry over to the next-gen version. Some won't, though, due to licensing restrictions. Mojang has yet to confirm which DLC can be used across both consoles.
Series 8 of the Doctor Who BBC series began last week. You can read TV Blend's recap of the first episode here. Series 8 will have 12 episodes that will air through the fall. They'll then be followed by a Christmas Special.
Image 1 of 2
Image 2 of 2
Staff Writer at CinemaBlend.
Your Daily Blend of Entertainment News
Thank you for signing up to CinemaBlend. You will receive a verification email shortly.
There was a problem. Please refresh the page and try again.