Minecraft Xbox 360 Edition Adds Marvel Spider-Man Skin Pack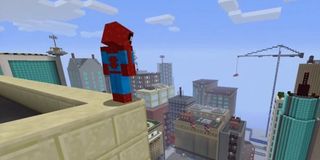 Minecraft Xbox 360 Edition owners can purchase a new skin pack today. The Marvel Spider-Man Skin Pack introduces a slew of comic book characters for the building game.
"Look out! Here comes the Spider-Man Skin Pack!" reads the Xbox.com listing for the Spider-Man Skin Pack. "Featuring an assortment of 35 friends and foes straight from the saga of your favorite Wall-Crawler, this pack is sure to amaze. Catch it now!"
The DLC's screenshots reveal that the Vulture, Green Goblin and Venom are all part of the bundle. The Xbox.com header shows Rhino, Doctor Octopus and Scorpion. If you feel like running a terrible newspaper, you'll be pleased to learn that J. Jonah Jameson is one of the skins as well.
Spider-Man himself appears several times in the Skin Pack. You can use his standard red-and-blue suit or one of his alternate costumes. The costumes here include the neon-green Stealth Suit, red-and-yellow Iron Spider Armor, and black-and-white Future Foundation Suit. Miles Morales' bad-ass black-and-red suit looks fantastic as well.
This isn't the first Marvel-themed DLC pack for Minecraft. Last year the game received an Avengers Skin Pack loaded with superheroes like Captain America and Iron Man. I suspect we'll see even more add-ons like this in the future if sales are strong.
The skin pack is only available for the Xbox 360 version of Minecraft thus far. 4J Studios, the developer for the Xbox 360 edition, also handles work on the PS3 version so it's plausible they'll bring the content to that platform as well. They're still working on bringing older skin packs from the Xbox 360 and PS3, though. The studio's also got its hands full finishing the PS4, Xbox One and PS Vita versions of the game.
The Marvel Spider-Man Skin Pack is priced at $2.99, €2.85, or £1.99. The download is a slender 172KB so it shouldn't strain your hard drive too much.
The skin pack's release roughly coincides with the arrival of the Amazing Spider-Man 2 movie. The film hits theaters here in the United States on May 2nd.
Your Daily Blend of Entertainment News
Staff Writer at CinemaBlend.