Minecraft Xbox 360 Receives Guardians Of The Galaxy Skin Pack This Week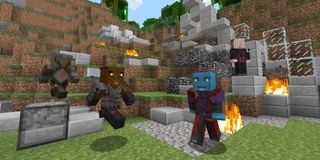 4J Studios will celebrate the theatrical debut of Guardians of the Galaxy with a special DLC Pack. The Guardians of the Galaxy Skin Pack is loaded with 24 different characters from the movie and comic book series.
Here's the full list of characters included in the Guardians of the Galaxy DLC:
Star-Lord
Gamora
Rocket
Groot
Drax
Yondu
Ronan the Accuser
Nebula
Sakaaran Warrior
Korath
The Collector
Carina
Star-Lord (Comics)
Adam Warlock
Angela
Charlie-27
Death
Jason of Sparta
Major Victory
Mantis
Nova
Quasar
Thanos
Wraith
You can see some of the characters in the screenshot gallery below.
At $2, the Guardians DLC doesn't have the best size: price ratio out there. Skin Pack 6, for example, gives you nearly twice as many skins for the same cost. The Guardians DLC has the benefit of great timing on its side, though. I'm sure there are going to be lot of gamers who want to be Star-Lord this weekend after seeing the movie.
Marvel's been invading Minecraft Xbox 360 Edition on a regular basis. Spider-Man swung into the game in April along with several friends and foes. Superhero squad the Avengers made their Minecraft debut in December. Marvel and Microsoft must be pleased with the sales of this DLC if they keep doing these collaborations.
4J Studios only announced the Guardians of the Galaxy Skin Pack for Xbox 360. There's a chance it could make its way to Xbox One when that version goes live next month. 4J warned in the past that certain DLC won't carry over from the 360 to Xbox One, though, due to "licensing restrictions."
The Guardians of the Galaxy Pack will go live on Friday, the same day that the film hits theaters:
Image 1 of 3