Minecraft Xbox 360 Halo Mash-Up Pack Includes Master Chief, Guilty Spark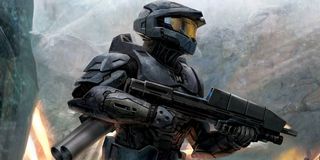 Minecraft Xbox 360 Edition will be getting a Halo Mash-Up Pack soon. The first screenshots from 4J Studios reveal that the DLC includes iconic characters from the franchise.
The first screenshot, released a week ago, shows Master Chief wielding a Needler. He appears to be somewhere on a Halo. You can see it curving up into the sky far in the distance.
The image released on Thursday reveals that 343 Guilty Spark will also be in the Mash-Up Pack. Guilty Spark is the murderous A.I. that inspired 343 Industries' name. His screenshot also seems to take place on a Halo installation.
If previous Mash-Up Packs were any indicate, these two characters are just a small fraction of the Halo DLC's full content. There's probably two or three dozen characters in this pack. Players should have a wide range of Spartans to choose from.
Mash-Up Packs aren't limited to characters, though. They include new textures as well to allow you to build worlds that fit with the characters. In the two screenshots, you can clearly see futuristic buildings made possible with these textures.
There have been two other Mash-Up Packs released for Minecraft on Xbox 360 so far. The Skyrim and Mass Effect Mash-Up Packs were released in late 2013. The DLC packs cost $3 apiece.
In addition to new textures and skins, the Skyrim and Mass Effect packs included themed menus and songs from the soundtrack. Both DLC packs also came with pre-made worlds to give you a good starting point for your creations. The Halo Mash-Up Pack presumably has all of those features as well. A few tracks from Martin O'Donnell would definitely make your Minecraft maps feel like Halo.
4J Studios hasn't said when we can expect the Halo Mash-Up Pack. Their dance card is pretty full, though. In addition to patching the Xbox 360 and PS3 versions of Minecraft, they're also working on PS4, Xbox One and Vita ports. It's understandable if this DLC's not their top priority.
It's been an exciting weekend for Halo fans. On Friday, Microsoft revealed new details on Halo 5. A report published on the same day suggested several HD remakes for older Halo games are in development.
Your Daily Blend of Entertainment News
Staff Writer at CinemaBlend.