Monkey Island: Special Edition Bundle 50% Off This Weekend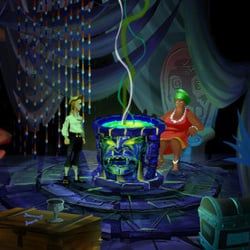 Steam is throwing adventure game fans a bone (or maybe a talking skull) this weekend. They're slashing the price of the Monkey Island: Special Edition Bundle.
The bundle includes the Special Edition remakes of The Secret of Monkey Island and Monkey Island 2: LeChuck's Revenge. Each features new hand-drawn graphics, full voice-over, and remastered music. You can seamlessly switch to the "classic" mode (and back) if you want the retro experience.
This weekend, the Monkey Island bundle will cost $7.50 to download.
Staff Writer at CinemaBlend.
Your Daily Blend of Entertainment News
Thank you for signing up to CinemaBlend. You will receive a verification email shortly.
There was a problem. Please refresh the page and try again.