Mortal Kombat Arcade Kollection Resurrects Original Trilogy On PS3, Xbox 360, PC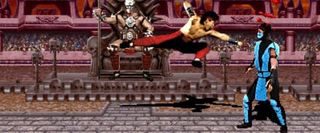 Warner Bros. Interactive Entertainment announced that they're releasing remakes of the first three Mortal Kombat arcade games: Mortal Kombat, Mortal Kombat 2 and Ultimate Mortal Kombat 3. They'll be released together in a $10 digital bundle entitled the Mortal Kombat Arcade Kollection.
Mortal Kombat Arcade Kollection is being developed by Other Ocean. NetherRealm Studios, the creator of the recent MK reboot, is lending their talents as well. The remake will introduce Achievements/Trophies, leaderboards, and online play to the classic fighting games.
"We are very excited to finally have the first three Mortal Kombat games available in one download package for long-time and new fans to play," said Ed Boon, NetherRealm Studios' creative director. "With the release of our 2011 Mortal Kombat, and its return to 2D game play, players have been asking for these classic titles and we are happy to deliver them."
The timing's a bit weird on this, frankly. The good time to release a retro MK game would've been before the reboot hit stores, when gamers are kinda desperate for anything MK. Will they want to put aside the shiny, new MK reboot and play the old versions?
It's possible that MK fans will have shelved the next-gen game by the time Arcade Kollection comes out anyway. WB is shooting for a late summer release of Kollection on PSN, Xbox Live Arcade, and PC.
Staff Writer at CinemaBlend.
Your Daily Blend of Entertainment News
Thank you for signing up to CinemaBlend. You will receive a verification email shortly.
There was a problem. Please refresh the page and try again.