Mortal Kombat: Freddy Krueger Fatalities, Combos Featured In New Trailer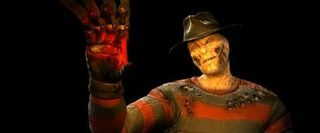 When Warner Bros. Interactive sent over the press notice saying that Freddy Freaking Krueger was going to be a playable character via digital download I almost flipped. But they followed up on the news with a truly flip-worthy trailer featuring Krueger's combos, special moves and two blood curdling finishers that are nothing short of awesome.
Unfortunately it's not the Robert Englund Freddy, so we won't be hearing those hilarious catch-phrases that made him so iconic in the 80s and early 90s. Instead, we have the schmelty-cat-faced Krueger with the dual-claws and a mean attitude.
The trailer is tight, though, first showing some of the baddest of the bad in the Mortal Kombat universe and then showing off Krueger who makes a dynamic, fiery entrance before he starts (literally) hacking and slashing his opponents to pieces.
You can check out some of the screenshots and the gameplay trailer for Freddy below. Horror fans who want to get their game on with the dream stalking legend can do so come August 9th for the Xbox 360 or PS3. For more info feel free to visit the LOfficial Mortal Kombat Website. Also, here's hoping Pinhead and Jason Voorhees also get to make the cut as downloadable characters, because that would be so awesome if they did…especially Pinhead, he would fit in well with the Mortal Kombat mythos.
Image 1 of 4
Your Daily Blend of Entertainment News
Staff Writer at CinemaBlend.