Mortal Kombat X Adds Predator To Its Roster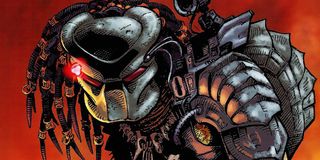 Mortal Kombat X's other secret fighter has been revealed. The titular alien hunter from Predator will be part of the fighting game's roster.
(Note: I'm just gonna start calling the character "Predator" from here on out for ease.)
Predator's inclusion in the game wasn't announced by Netherrealm Studios. Instead, Xbox.com (opens in new tab) (via NeoGAF) accidentally spilled the beans on their listing for Mortal Kombat X's Kombat Pack, the DLC bundle for the game. Here's what the listing says (emphasis ours):
Predator was on Mortal Kombat fans' radar for awhile. Back in July, MK creator and Netherrealm Studios head Ed Boon kicked off the speculation when he retweeted a fan's poster featuring the character:
This is the sort of character you'd expect to see in a fighting game, too. Predator's driving mission in life is to hunt the most dangerous lifeforms in the galaxy and the MK fighters certainly fight that description. Furthermore, one-on-one fights appeal to his sense of honor. His wrist blades, a harpoon and a shoulder cannon will make for some great Fatalities, too.
The Kombat Pack will include four DLC characters. Only Jason and Predator have been revealed so far. The other two DLC fighters are said to be "Klassic Mortal Kombat characters."
I'm sure that some fans are disappointed by Netherrealm's choice of mystery fighters. Will and many others were expecting Spawn to be in the game, especially after Spawn creator Todd McFarlane's recent tease. I suppose there's a chance that Netherrealm could add that character and other cross-overs well after MKX's launch, even if they won't be part of the Kombat Pack.
Mortal Kombat X will launch on consoles and PC next month. Netherrealm still has a few more characters to announce until then. You can keep track of all of these reveals by checking our run-down on the game's roster.
This poll is no longer available.
Your Daily Blend of Entertainment News
Staff Writer at CinemaBlend.
Your Daily Blend of Entertainment News
Thank you for signing up to CinemaBlend. You will receive a verification email shortly.
There was a problem. Please refresh the page and try again.