Mortal Kombat X Adds Jason Voorhees To Roster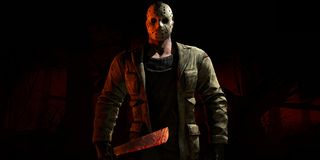 Warner Bros. has revealed one of Mortal Kombat X's guest characters. Jason Voorhees, the hockey mask-wearing psychopath from the Friday the 13th films, will be playable in the upcoming fighting game.
Jason's inclusion in Mortal Kombat X isn't a complete shock. Fellow horror movie character Freddie Krueger appeared in Mortal Kombat 9. It's only natural for Netherrealm to now bring his rival into Mortal Kombat as well. Jason's exceptional strength and skill with a blade makes him well-suited to a fighting game, too. He was the first character on our wishlist for the game.
Unfortunately, you'll need to pay to unlock Jason for your game. He's part of the Mortal Kombat X Kombat Pack, the game's Season Pass equivalent. The Kombat Pack includes four new characters in total. The other three haven't been revealed yet. Two of them are characters from previous MK games while the third is another guest star.
The Kombat Pack also comes with two sets of character skins. The Samurai Pack, available at MKX's launch, unlocks the Ronin Kenshi, Samurai Shinnok and Jingu Kitana skins for the game. The second hasn't been formally announced yet but will include skins for all four DLC characters.
Kombat Pack holders will get access to all DLC before it goes on sale individually. For the early access and new content, you'll need to pay $29.99 or £24.99. Alternately, you can get the Pack with one of the game's Collector's Editions.
The timing of the DLC is mostly unknown at this point. Warner Bros. said today that some of the Kombat Pack content will be available as soon as the game launches. It's possible that, as the first DLC character announced, Jason will be the first added to the game. The more likely explanation for WB announcing him first, though, is that today is Friday the 13th.
Jason's screenshots and trailer come just a day after the previous batch. The last set of images and video released by WB focused on Johnny Cage and Sonya Blade, the two series veterans who will be returning for Mortal Kombat X. The trailer also confirmed Kenshi's inclusion in the game. I'm sure we'll see even more videos in the weeks ahead as WB tries to announce the full roster before the game hits stores.
We'll be seeing a lot of Jason in video games this year. A new Friday the 13th video game is also coming this fall to multiple platforms.
Your Daily Blend of Entertainment News
Staff Writer at CinemaBlend.