Mutant Football League Kickstarter Campaign Fails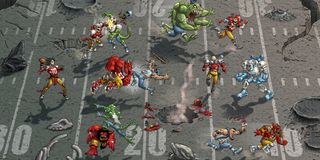 Mutant League Football creator Michael Mendheim's Kickstarter campaign for a new monster-based football game has failed. The month-long campaign raised only $141,821 of the base goal of $750,000.
The new project, called Mutant Football League, had the same basic premise as the Sega Genesis game that inspired it. Players led teams of skeletons, aliens and other freaks in violent gridiron matches. The fields are littered with hazards like land mines or fire pits. The opposing team is just as dangerous, because their defense can rip your quarterback apart and their offense can throw you an exploding ball.
I'm surprised that there weren't enough nostalgic gamers to get this game to its goal. There aren't enough alternatives to Madden out there for football fans. Granted, Mutant Football League is 20 years old so many gamers might not remember it but age didn't hurt Wasteland 2's campaign. Maybe $750,000 was too high of an initial goal?
Though the Kickstarter campaign fell short, Mendheim says that the development team isn't going to throw in the towel. Today, in an update on the project's Kickstarter page, he outlined his plan for the next two months.
"Next week I'll get the graphic novels out to the winners of our Facebook naming contests and respond to all the Kickstarter e-mails I'm so behind on," Mendheim said. "My apologies to everyone for being so late - there seems to be more work than hours in the day. Next, there's a videogame I need to ship and then a graphic novel project that needs to get primed for printing..."
"After that I'll put together a preliminary plan for Mutant Football League and then submit to the people on the mailing list. They can input and we'll run some surveys, revise and get a plan finalized. If you want to be on the list just send me your e-mail address and I'll add you to the mailing list or go to www.mutantfootballleague.com and submit it there. I'll keep you updated on everything and you can advise on strategy."
Mendheim closed his letter to the Kickstarter backers by sharing some new concept art from MFL. The first two are pictures of the Out Worlders and Deadheads, two types of players planned for the game. Out Worlders are mutant nomads who have been hardened by surviving through multiple apocalypses. Deadheads are the reanimated corpses of former players. There will be a team made up entirely of skeletons in the game. Players will also be able to resurrect their deceased team members as Deadheads a few times in a game.
The third and final concept art is a drawing of a penalty box. One player is locked up in a jail cell while another is being given electroshock therapy. We'll have to wait and see whether or not this penalty box becomes part of the actual game.
Staff Writer at CinemaBlend.