Wasteland 2 Earns $2.9 Million Through Kickstarter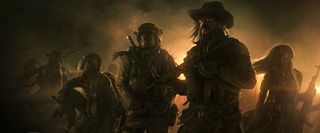 inXile entertainment's Kickstarter fund-raising drive for their post-apocalyptic RPG Wasteland 2 has concluded. The Newport Beach-based developer managed to raise nearly $3 million dollars through the crowdfunding site.
Wasteland 2 is a sequel to a PC RPG released in 1988. Wasteland put players in the shoes of Desert Rangers patrolling the wastelands of the American Southwest after a nuclear apocalypse. Players directed their squads of Rangers in combat and upgraded them over time with new equipment and skills. Players were also presented with moral decisions with important consequences.
"Wasteland 2, with your participation and insights, will recapture all that and provide more," says inXile. "It'll finally be the game worthy to be a Wasteland sequel, as challenging and rewarding as the original, with all added capacity and dazzle of games today."
inXile's initial fundraising goal was $900,000. The extra $2 million has allowed them to add Mac and Linux versions to their plans. They also intend to hire more writers and scripters so that they can fill out the world even further. Fallout: New Vegas studio Obsidian Entertainment was tapped to assist with the development.
The studio is also hoping to help other game developers get their projects off the ground. They've pledged to give 5% of the profits from the game back to other Kickstarter drives. This initiative, called "Kicking It Forward," has been joined by several other Kickstarter users.
inXile plans to release Wasteland 2 in October 2013.
Image 1 of 2
Your Daily Blend of Entertainment News
Staff Writer at CinemaBlend.