NHL 16 Will Bring Back Features Missing From NHL 15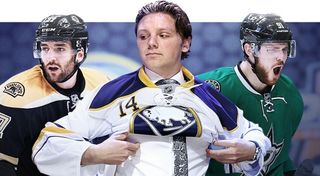 EA has released a long list of features for NHL 16, some of which are upgrades and returning features from NHL 15. This includes the return of the EA Sports Hockey League, the 6-vs-6 online team play mode, as well as local couch co-op.
Videogamer.com did a brief write-up on the features for NHL 16, including the new on-ice training tool that will help newbies and veterans alike get acquainted with the old and new content in the upcoming hockey simulator. As mentioned, EA Sports is bringing back content that was removed in the NHL 15 rendition of the game on the Xbox One and PS4.
EA also released a brief action trailer that answers the question as to whether or not players will be able to access post-match replay features and specific highlights similar to NHL 13 and NHL 14. The video is only 20 seconds but fans of the series may find the info useful.
As mentioned over on the official EA Sports website, the EASHL returning allows players to take on the role of specialized player classes that can be leveled up and upgraded throughout play. The ability to take on the role of a GM and managing things from behind the scenes with the Hockey Ultimate Team feature is also making a return. Although, perhaps this time maybe EA can avoid all the controversy associated with the HUT this time around, since in NHL 12 and NHL 13 there was the running controversy over players paying for packs and a bug preventing players from accessing the content they paid for.
In the case of FIFA 15, EA cut out trading to minimize on some of the customer issues dealing with the cash shop and microtransactions, so we'll see how well they fix NHL 16 to keep complaints about microtransactions to a minimum.
Single-player content is also heavily back on the table this time around for players who aren't keen on playing online.
According to the promotional page, it states...
According to the website, players will have to deal with each member of their NHL or AHL team and attempt to make the team work cohesively together in the GM mode. This has been a staple in the FIFA series for a while, so we'll see what the eighth-gen rendition of an NHL game will bring to the table as far as team management and diverse personalities go.
EA is also ramping up the polygon count on the characters and ensuring that the commentary is top notch enough to help bring the action to life as if gamers were watching a real life presentation of the NHL on television.
NHL 16 is due for release on the Xbox One and PS4 this September.
Your Daily Blend of Entertainment News
Staff Writer at CinemaBlend.