Napoleon: Total War Announced, First Screenshots Released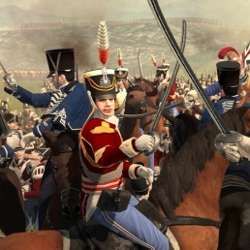 Today Sega Europe and Sega of America revealed that The Creative Assembly is developing a new installment in the Total War series. Napoleon: Total War will be released in February 2010.
Napoleon will feature three campaigns that tell of the rise and fall of French general Napoleon Bonaparte. You'll be able to experience his campaigns through Italy and Egypt, as well as his ill-fated invasion of Russia. The game culminates with Napoleon's confrontation with Duke Wellington at the Battle of Waterloo. You'll be able to play as opposing generals as well, allowing you to completely muck with established history in a variety of ways.
Like previous games in the series, gameplay is a combination of 3D naval and land battles, diplomacy, and empire management. The official Napoleon website is now online and promises all new units, improved battlefield buildings, a uniform editor, and voice communication.
Image 1 of 3
Image 2 of 3
Image 3 of 3
Staff Writer at CinemaBlend.
Your Daily Blend of Entertainment News
Thank you for signing up to CinemaBlend. You will receive a verification email shortly.
There was a problem. Please refresh the page and try again.