Nicolas Cage Dating Sim Is The Virtual Romance You've Been Waiting For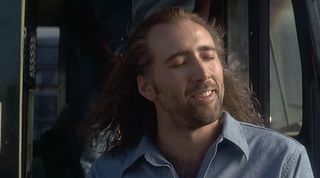 It was only a matter of time before some enterprising developer found a way to take advantage of the Internet's weird obsession with Nicolas Cage. Well, that day has finally arrived. There are now two—yes, two—Nicolas Cage dating simulators. And they're both super creepy.
Back in January, a Deviant Art user named Angie Philapator released a dating Sim that stars the Internet's favorite punch line, Nicolas Cage. The game, called Caging Me Softly, isn't the kind of robust, triple-A experience that you might be used to. It's roughly three-minutes long and contains a single interactive moment; you must describe Nicolas Cage's face.
Here's a screenshot:
The choice you make here is extremely important, because it could spark a life-long romance with the Wicker Man. But you might end up in jail, so choose wisely.
If Caging Me Softly doesn't hit the spot, you have another option. Cage of My Heart: A Nic Cage Dating Sim has a few more romantic twists and turns. Plus, according to a status update from January 12th, Kanye West will show up in one of the game's endings.
I'm not sure what makes Nicolas Cage so captivating, but the Internet has been preoccupied with his facial expressions for almost two decades. He's like our mascot.
The obsession might have something to do with how weird his life is. Francis Ford Coppola is his uncle, and he was married to Elvis Presley's daughter for 107 days. Plus, Cage named his son Kal-El, because it was Superman's birth name.
Our fixation could also be based on the fact that his filmography contains titles like Bangkok Dangerous and Left Behind even though he's been nominated for two Academy Awards and four Golden Globes.
Or maybe he just has a face that looks good in a meme:
If I'm being honest, neither of these games are very good, but they're far better than most of Nicolas Cage's recent movies. So, you might as well give them a shot.
To get your hands on a copy of Caging Me Softly, head over to Angie Philapator's Deviant Art profile. And if you'd like to try Cage of My Heart: A Nic Cage Dating Sim, you'll need to request a copy over on the game's Official Facebook Page.
Your Daily Blend of Entertainment News
Thank you for signing up to CinemaBlend. You will receive a verification email shortly.
There was a problem. Please refresh the page and try again.