Oddworld Dev Says Nintendo Is Fantastic To Work With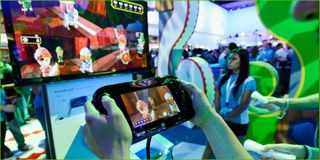 More good news coming out for the Nintendo camp as Oddworld Inhabitant's design director and Just Add Water CEO, Stewart Gilray had some positive... very positive things to say about the Big 'N' and their new focus on independent developers and original game titles.
For those who didn't know, Nintendo has basically done an about face in the way they attend to software and third-party library development. Instead of seeking to acquire support or evolving established relationships with big-name publishers, Nintendo has gone the opposite end of the route and sought the services and partnerships with up-and-coming developers in the indie scene... including studios like Oddworld Inhabitants.
Technically, the Oddworld bunch have been around for ages, but they've always managed a small but notable presence in the gaming world. With the ever-growing charge of online digital distribution, they have managed to re-carve out a name for themselves by re-releasing HD versions of their games while simultaneously using revenue to fuel new game projects.
According to Nintendo Everything, Nintendo's Dan Adelman was so impressed with what Oddworld has been doing in the independent digital space and how they've managed to keep their brand alive, he requested them to port Oddworld: Stranger's Wrath HD to be ported over to the Wii U. Keep in mind that was the one game that caused Lorne Lanning and EA to have a big fallout.
Although, in this instance, Gilray had nothing but positivity to share in regards to their relationship with Nintendo, saying...
Gilray's comments about Nintendo are also on the opposite end of the spectrum from what Oddworld's Lanning had to say about Microsoft and the Xbox One regarding their old indie self-publishing policy, in which case the policy was basically that indies couldn't self-publish. After tons of backlash, Microsoft eventually changed their tune.
Nintendo on the other hand, hasn't had to deal with all the backlash that Microsoft has had to deal with given that they've been opening up more to indie studios and trying new to bring in all sorts of fresh ideas and creative development studios. Nintendo also recently announced that they're working with developers regarding dev kit fees and concept approval and certification to make the process as painless as possible so more studios can get signed up and more games can get published on the Wii U.
Nintendo Everything will have up the full interview with Stewart Gilray. Even from that tidbit, though, it sounds like Nintendo is starting to rub all the right people in all the right ways.
Your Daily Blend of Entertainment News
Staff Writer at CinemaBlend.