Overwhelmingly Successful Kickstarter Game Is A Trip To Hell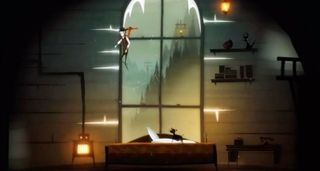 The dark action-packed 2D adventure, Pinstripe, was 60% funded after only six hours of running the Kickstarter campaign, and at the time of writing, the game has been successfully funded with almost $37,000 and 28 days left to go; that's $9000 over its initial goal of $28,000. You should check out the campaign trailer below.
By the look of the game, if you think there's a team behind this beautiful 2D adventure, think again. Pinstripe is being headed by one impressive guy named Thomas Brush. And he's a college student by day and solo game developer by night. In relation to working on a video game alone and launching a Kickstarter, Brush writes, "I've been working on Pinstripe in addition to college and my day job. Honestly, I've been trying to prove to myself that I can make an awesome game completely alone and self funded." Pinstripe follows the story of an ex-minister who is in search of his daughter, Bo, in the bowels of Hell and Bo's kidnapper claims to be God. As you traverse the Hellish landscape with your trusty dog, George, and your good ol' shotgun, you will come across strange creatures of Hell. The game was Greenlit on Steam in just seven days and was nominated for the SXSW 2016 Gamer's Choice. Brush has done other games, Coma and Skinny, that were viral hits, but nothing has been quite as ambitious as Pinstripe.
What really strikes me about this 2D adventure is how fresh and unique it is, down to even the simplest of sound effects. It's really hard to believe that this is all being created by one guy, and would explain why the Kickstarter campaign was funded in a matter of hours on the first day. And it's funny if you think about it, what kind of story propelled the Silent Hill series? Harry was trying to find his daughter in Silent Hill. It's a horrifically classic tale that never gets old.
It's these kinds of video game stories that are really worth telling, the ones about those who are not driven by the idea of money, but by the passion of creating something inspiring—and this, my friends, is inspiring.
If you would like to back the Kickstarter game, Pinstripe, you can head on over to the official Kickstarter page.
Your Daily Blend of Entertainment News