PAYDAY: The Heist Hits PSN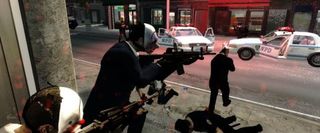 Sony Online Entertainment's co-op shooter PAYDAY: The Heist is now available on the PS3. You can download it through PSN in North America for $19.99.
"In an effort to publish the most innovative and entertaining independent titles on the PlayStation Network, SOE is focused on releasing games that will challenge and engage players with unmatched gameplay experiences and endless replayability," said Christopher Sturr, Executive Director of Business Development, SOE. "PAYDAY offers just that. It's an intense, gritty, cooperative shooter where players must rely on a solid trigger finger and cooperative team defenses to pull off these Hollywood epic style high-stakes heists."
In PAYDAY, up to four players team up to bring in a "big score." They'll rob banks, hijack armored cars, and more. Six heists are included in the game in total. Players choose from three different specialties, each with their own unique items and weapons to unlock.
"For a group of developers that love the FPS genre and have an affinity for blockbuster heist movies, PAYDAY is truly a game after our own hearts," said Bo Andersson, CEO of OVERKILL Software. "Each PAYDAY scenario makes FPS fans prove their worth as players while co-op teams are pushed to collaborate and accomplish strategic tasks that only an action hero could dream of surviving. And, there will be much more exciting content to enjoy with upcoming DLC and a motion picture based on the game currently in production."
The PC release date hasn't been announced yet. It's also unclear when Europe will get the PS3 version.
Staff Writer at CinemaBlend.
Your Daily Blend of Entertainment News
Thank you for signing up to CinemaBlend. You will receive a verification email shortly.
There was a problem. Please refresh the page and try again.