PewDiePie's Let's Play Game Videos Generate $4 Million In Ad Revenue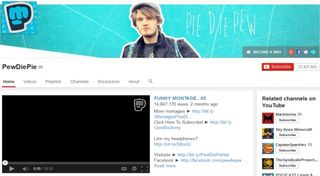 Any parent who says that playing video games is a waste of time obviously never heard of the Let's Play movement taking YouTube by storm, and they obviously never heard of PewDiePie, one of many YouTube personalities who makes more money in one year than most people will make in a lifetime.
The Hollywood Reporter picked up a story from Wall Street Journal that finally gives gamers, reporters and enthusiast alike an inside look at the luxurious life of a YouTuber.
PewDiePie, real name Felix Kjellberg, is a 24-year-old Swedish gamer who recently moved to London, England to continue his pursuit of maintaining the million-dollar dream of playing video games all day while screaming at the top of his lungs like a little school girl at a Justin Bieber concert. Kjellberg makes $4 million a year in what he mostly calls profit (which means his revenue could very well double the $4 million figure). The figure doesn't take into consideration Google's percentage of ad revenue, but $4 million in "pure" profit is no laughing matter.
As noted in the article...
It's interesting that Felix's payout was even revealed given how stringent and clandestine Google is about the non-disclosure of financial incentives from ad revenue generated from videos. Usually I ask about payouts and get a lot of round about answers.
From the last time I checked his channel – before YouTube privatized total viewcounts – PewDiePie had more than 420 million total video views. I'm sure he's eclipsed that number by a fairly sizable margin, especially with videos like the one below, which garnered nearly 15 million views at the time of publishing this article.
Just keep in mind that in the last two weeks his uploaded videos have garnered 97,281,254 views. For comparison's sake, IGN – following the acquisition by Ziff Davis Media – only managed 53 million uniques a month, according to Polygon. While PewDiePie's numbers may not be "uniques", he's getting nearly double the viewcount of his material in two week's time compared to a month's worth of content from IGN, and he certainly seems to have a paycheck to match.
It's interesting seeing the video game landscape change so rapidly. Long-time running outlets like GamePro and Nintendo Power are no longer in existence, and sites like Computer and Videogames and the Official Xbox Magazine are about to join them, all the meanwhile small, working-from-home YouTubers are engaging and entertaining audiences with numbers, feedback and payouts all the major corporations only wish they could make.
The sad reality (depending on which side of the line you stand on) is that traditional media consumption is no longer as financially viable as the platform that new wave content providers stand on.
Just as print travels the lonely path to extinction, digital gaming press seem to be walking a parallel road of bootless endeavors toward an open-armed town called oblivion.
Your Daily Blend of Entertainment News
Staff Writer at CinemaBlend.