Pillars Of Eternity's White March Expansion Details Announced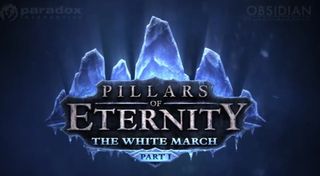 Obsidian Entertainment has detailed the upcoming expansion pack for Pillars of Eternity called The White March. The new expansion is so big that it comes in two parts and Obsidian has detailed some of the new companions, skills and locations in the upcoming expansion, which will be free to Kickstarter backers.
The story trailer for the first part of the expansion has gone live, courtesy of Paradox Interactive. You can check out the trailer below.
The biggest new addition to the expansion are two new companions. You'll be able to recruit a Zahua the monk, who comes from a strict sect who produces warrior-monks. He looks like the kind of guy you wouldn't want to get into a rough and tumble with.
The second companion is very interesting. She's a murderer trapped in the body of a bronze golem known as The Devil Caroc. She has a fascinating story and a character described as being cunning and cynical. What a rare and unique character to add to the roster, and her Metropolis-esque design really invokes a sense of intrigue and mystery.
In addition to the new characters are new skills, items and locations for Pillars of Eternity's new expansion. However, they don't really roll out too many details on some of the other features but they do offer a look at some of the upgrades that everyone will receive for free in the upcoming patch for Pillars of Eternity. You can check out the update video below.
The new AI behavior options and menu is pretty cool, enabling users to pick what scripts they want their companions to use during battle. This is something more RPGs need.
They're adding in new individual stealth mechanics for Pillars of Eternity. This means you can select one or several party members and have them enter into stealth mode. It's no longer everyone or nothing.
There's also the added bonus of using stealth, aggroing enemies and then using other party members who weren't spotted to flank. Pretty neat as far as tactical awareness and options go.
The accuracy indicators seem like something pulled right out of XCOM. The feature enables gamers to see just how accurate or effective some attacks might be on select targets. The added bonus of being able to see whether or not certain AOE attacks will cause friendly damage is also nice.
You can learn more about the new 2.0 update for Pillars of Eternity as well as the new White March Part 1 expansion by paying a visit to the Kickstarter page.
Your Daily Blend of Entertainment News
Staff Writer at CinemaBlend.