Plants Vs Zombies: Garden Warfare Gets Cheesy With Cheetos, Target Promotion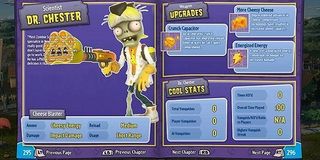 Product placement sure has gotten weird. The latest oddball mix comes from a partnership between Cheetos and Target, along with a game that ostensibly has no connection to either of those entities, Plants vs. Zombies: Garden Warfare. Get ready to don some cheetah spots on your favorite foliage as Chester Cheetah dives into the fray.
I actually came upon this news by watching some random gentleman play the game via the PlayStation 4's streaming app. He was patrolling a destroyed city as a shambling member of the undead when, out of nowhere, a Chomper exploded out of the ground and consumed him. This particular Chomper, though, featured a skin that looked unmistakably like a certain snack-food addicted feline from TV commercials. The guy running the scream laughed and said he'd never seen that skin before, which got me to looking around on the internet for details.
I found my answer on Facebook, where this interesting partnership between the game, Target and Cheetos was officially announced. It may not be the typical way most things transpire, but in today's social media-oriented space it's not that surprising either.
It turns out that I don't do enough chip purchasing at my local Target, because that's where I would have found out about the promotion a bit earlier. Currently ongoing and running until lord knows when, you can grab a special DLC code in specially marked bags of Cheetos in order to grab a couple of skins for Garden Warfare on any version of the game, including both PlayStation home consoles, both Xbox machines and PC.
The codes grant access to exactly two skins, including one for the "Chester Chomper" I witnessed in action on the plants side, and one for Dr. Chester on the zombies team. According to the promotions deep and mysterious lore, Crazy Dave accidentally planted some cheese in his garden, resulting in a Chomper variant that dons sunglasses, a goatee and loads of lovely spots. Dr. Chester, on the other hand, decided to get his PhD in Cheeseology, hence his appropriate makeover.
For those of you who do not already have the game, you can also take advantage of an additional promotion that grants you a $10 Target gift card when you buy a pack of Cheetos and Garden Warfare at the same time.
Finally, plugging in your relevant information utilizing the code from the bag will also enter you for a chance to win a custom designed Xbox One, PS4 or controller through daily giveaways.
So, there you have it. Eat Cheetos, deck out your characters in some cheesy swag and maybe save some money at Target or, you know, win a cool controller or something.
Staff Writer for CinemaBlend.
Your Daily Blend of Entertainment News
Thank you for signing up to CinemaBlend. You will receive a verification email shortly.
There was a problem. Please refresh the page and try again.