Plants Vs. Zombies: Garden Warfare Gets PlayStation Launch Date, Exclusive Hats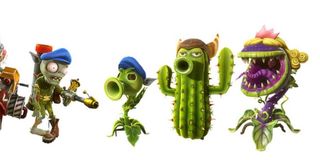 Plants vs. Zombies, it's a conflict as old as time itself. Throughout the ages, various sentient flora have waged war against the shambling masses of undead hordes and, this August, that never-ending struggle will finally spill over onto Sony consoles as Plants vs. Zombies: Garden Warfare arrives on the PlayStation 3 and PlayStation 4.
If you want to get technical here, you could also argue that Garden Warfare will be launching for the PlayStation Vita on Aug. 19, too, thanks to that handy remote play functionality. There's even tablet integration, for those who want to taste battle from the comfort of a control map.
Garden Warfare Lead Gameplay Designer Chris Fox made the launch date official on the PlayStaiton Blog, as well as sharing some info on survival tips for players new to the game and PlayStation-exclusive hats, which let you add a little PS flair to your chosen combatants. You can check out the latest "Deep Dive" trailer for Plants vs Zombies below.
Also on display is Garden Warfare's split-screen survival mode, for those who want to enjoy the carnage with a living, breathing friend.
"In our split-screen mode, it's you and a friend teaming up to protect your garden from an endless zombie horde," Fox explained. "With just two plants versus all of Dr. Zomboss' minions, character selection is key." Garden Warfare is actually a class-based third-person combat title from Popcap Games, so it's important that two players pick characters that will work well together. You wouldn't want two tanks marching into battle with nobody to provide support, for instance. "The Pea Shooter and Sunflower are natural companions," Fox continued. "He's a mid-range specialist, and she's a healer. Pretty obvious stuff, I know. But what you might not know is that the Chomper and Cactus make quite the formidable pair. The Chomper's ability to bite right through armor allows him to take care of pesky Coffin and Outhouse zombies, leaving the Cactus free to snipe ranged zombies from a safe distance."
To help keep things nice and customizable, each class of character has up to seven variants to play as, each with their own weapons and stats. Part of the fun is figuring out which version of each class best fits your play style between modes.
Finally, since hats are all the rage in arena battle games these days, it's only natural that Plants vs. Zombies: Garden Warfare would sport unique headgear as well. And, for the PlayStation crowd, some of those caps will likely look pretty familiar.
"The team wanted to do something special for all of the PlayStation fans, so we've created a batch of exclusive hats based on some of our favorite PlayStation characters," Fox concluded. "These will be available exclusively to those who preorder through PlayStation Store or retailers, however the Fat Princess hat is a digital exclusive."
Your Daily Blend of Entertainment News
Staff Writer for CinemaBlend.
Your Daily Blend of Entertainment News
Thank you for signing up to CinemaBlend. You will receive a verification email shortly.
There was a problem. Please refresh the page and try again.