PlayStation Now Beta Games Include Killzone 3, Shadow Of The Colossus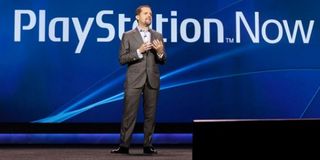 Sony has begun beta testing PlayStation Now, a service that streams PS3 games to consoles and other devices. PS Now's first nine games are a mix of both third-party and first-party titles.
The list, obtained from a tester by Gamepur, includes the following games:
Killzone 3
Puppeteer
Shadow of the Colossus
Papo & Yo
Darksiders II
MX vs. ATV: Alive
Disgaea 4
Ninja Gaiden 3
Shatter
Readers on other sites seem to be really underwhelmed by the selection. There are some definite stinkers on there, such as Ninja Gaiden 3 and MvA: Alive. Still, it's hard to be too critical of any list of games that includes Shadow of the Colossus. I'm sure you're tired of game critics swinging from Shadow's nuts at this point but it's worth the hype.
Also I really doubt that this is the complete list of launch titles for PS Now. This is the first public beta for the service. Sony is more concerned with making sure that Now works, period. I'm sure that the library will expand as the beta goes on and the service officially launches. The demo kiosks for Now at CES 2014 featured Beyond: Two Souls, God of War: Ascension and Last Of Us.
That being said, I am curious how they'll handle newer PS3 releases like Last Of Us. Will the company focus on streaming older titles rather than risk cannibalizing the traditional sales of more recent hits? Sony's got seven years' worth of games to potentially add to Now so it'll be interesting to see what games they prioritize in that long process.
While I'm very curious about how well the beta version of Now works, it's unlikely we're going to see much other information leak out. The testers are under a non-disclosure agreement so they can't just post their impressions or record videos. The only footage on YouTube right now are press clips from CES.
Sony sent out the first beta invitations this week. The invites were limited to PS3 owners. However, Sony plans to release Now on PS4, PS Vita, Bravia televisions and mobile devices. It's reasonable to assume that those platforms will get beta tests as well as Sony gears up for Now's launch this summer.
If you're hoping to try out PlayStation Now before it's released to the public, you can sign up at PlayStation.com. Sony sends out invitations to the Now test via email.
Your Daily Blend of Entertainment News
Staff Writer at CinemaBlend.