PlayStation Vita Getting Dead Nation, Soul Sacrifice Delta, Freedom Wars And Oreshika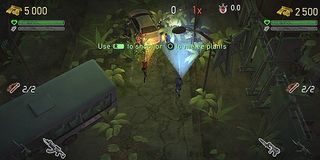 Developers continue to make a strong argument for owning a PlayStation Vita, today announcing four more titles will be coming to Sony's handheld console including Dead Nation, Soul Sacrifice Delta, Freedom Wars and Oreshika: Tainted Bloodlines.
Typically, when Sony, Microsoft or Nintendo say they're working to bolster a console's library, it happens rather slowly (if at all). So when word starting buzzing around the internet last year that Sony was pushing to create more content for the Vita, I took the news with a grain of salt. I never doubted that they'd actually deliver on that promise, but I didn't exactly expect it to be in such grand fashion. The 2014 release calendar has already been good to the little portable that could, dozens of new indie games have been announced for the console later this year and, as if to guarantee a full bank account drain, four more titles have been announced as of this morning.
First up is a Vita version of the PS3 twin-stick zombie-shooting romp, Dead Nation. Having recently made the jump to the PS4, this strategic blast-a-thon will make its way to the Vita (checks watch) with tomorrow's PSN update, bringing all of that blood and carnage to the palm of your hands.
This morning's Vita news also included an announcement that three more games would be arriving in the US this year, beginning with Soul Sacrifice: Delta. An updated version of the original Soul Sacrifice, this latest version of the game includes oodles of new content including new maps, new enemies, new customization and spell options, a heavy focus on Factions and more. If you enjoyed the original Soul Sacrifice, then Delta offers more of the same, complete with a save transfer system to transport all of your progress from one into the other. While these next two games don't yet have release dates attached, look for SSD to arrive on May 13.
Also bolstering the Vita's monster hunting quota is the highly anticipated Freedom Wars. In a dystopian future, the player begins life as a prisoner sentenced to 1,000 years in jail. In order to remove time from that sentence and earn your place as a free citizen, you must hunt down and destroy the monsters that are terrorizing the city. Freedom Wars allows players to team up with friends to battle massive enemies or jump into eight-player competitive matches to determine who is the best fighter.
Oreshika: Tainted Bloodlines. RPG fans looking for more options on the Vita will want to keep a close eye on this one, coming out of left field with its US launch announcement. You'll lead an ancient Japanese clan on a quest to lift a curse that shortens your lifespan to just two years. Will you sit around and fret over your impending doom, or will you fight so that your fellow clansmen never have to realize that same fate? The decision is yours once Oreshika arrives on the Vita later this year.
Staff Writer for CinemaBlend.
Your Daily Blend of Entertainment News
Thank you for signing up to CinemaBlend. You will receive a verification email shortly.
There was a problem. Please refresh the page and try again.