Pokemon Alpha Sapphire, Omega Ruby Lets Players Create And Share Secret Bases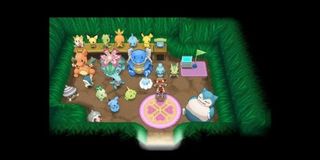 Pokemon Omega Ruby and Alpha Sapphire will be adding a whole new level of customization into the "catch em all" formula this fall with the introduction of a "Secret Base" feature that lets trainers design and share their own personal Pokemon pads.
If there's one thing that gamers love these days, it's annualized first-person shooters and sports games. But if there's a second thing that gamers love, it's customization. We've known for a while now that Omega Ruby and Alpha Sapphire were going to be more than just straight ports of a couple of older Pokemon classics, and now we're getting a sneak peak at some of the new functionality that will be added to the game.
It looks like these bad boys are being built on the same engine as last year's mega-hits, Pokemon X and Y, but they'll feature the regions, storylines and pocket-sized monsters pulled straight from fan-faves, Ruby and Saphire. It's a safe bet that the newer games' online battle, trade and training features will also be included but, for today, we're here to talk about something wholly new.
Even a little bit of customization can go a long way in the minds of gamers and, when you're letting folks decorate their own Poke-themed rooms with gadgets, plushies and the like, it's likely to be a big hit with trainers new and old. The Secret Base feature in Omega Ruby and Alpha Sapphire, though, goes a bit farther than that.
"…A customizable area that will allow them to show off their individuality by setting up mazes or traps for visitors to encounter, and even creating Pokemon battle rules, transforming their Secret Base into their own Pokemon Gym," reads the official announcement.
Even better is the fact that players will be able to share their bases with other trainers via StreetPass or QR codes. Similar to the codes being used in Tomodachi Life, players can then share their unique codes on Twitter, Facebook and the like, and then their friends (and enemies) can easily download them for exploration.
"When visiting other secret bases, players can meet other trainers in the same base and invite them back to their own secret base as Secret Pals," continues the announcement. "Players can interact and battle with Secret Pals, who have special skills that can support players in their adventures, such as sharing new Decoration, making a Pokemon Egg hatch faster, or raising the level of a select Pokemon by one."
In other words, the more Secret Pals you have, the more special skills you'll have access to. That sounds similar to a system utilized in X/Y, which allowed players to basically spam their friends and strangers with random buffs.
Look to build your own Secret Base in Pokemon Alpha Sapphire/Omega Ruby on November 21st, later this year when the game launches exclusively for the Nintendo 3DS. Now if only they can find some way to get these on the Wii U and Nintendo will be swimming in a pool of cash.
Staff Writer for CinemaBlend.
Your Daily Blend of Entertainment News
Thank you for signing up to CinemaBlend. You will receive a verification email shortly.
There was a problem. Please refresh the page and try again.