Pokemon Shuffle And Hoopa Announced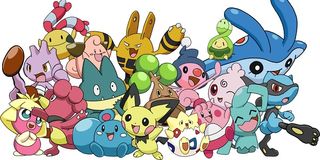 The early-morning Nintendo Direct was not without its surprises today, two of which tied into the beloved Pokemon franchise. Fans got their first look at a new Poke-themed puzzle game heading to the 3DS next month, as well as a new Mythical Pokemon for Omega Ruby/Alpha Sapphire.
Thankfully, another new Pokemon game in the series proper was not announced this morning. I'm all for more games, but we need a bit of breathing room between all of this critter catching. That doesn't mean that a new puzzle game featuring the lil guys wouldn't be a welcome surprise, which is apparently exactly what we're getting in Pokemon Shuffle next month.
For those of you who played last year's Pokemon Battle Trozei, you basically know what you're getting into here. Pokemon Shuffle is a matching puzzle game that allows you to build a team of monsters and then match their adorable faces in order to do damage to the enemy. Also, it's free-to-play and will be hitting the 3DS eShop sometime in the next month.
As you can see from the trailer, Pokemon Shuffle has a lot in common with games like Puzzle and Dragons. Aside from the puzzle-style gameplay and collectable monster bits, you'll be limited to a stamina gauge to determine how much you can play at a given time. You can either wait for that stamina to refill or buy extra time via the eShop. Given the popularity of such games on mobile, it makes sense that Nintendo would have a similar Pokemon game hitting the market, too.
And don't forget about the recently announced Mario Bros-themed version of Puzzle and Dragons due out this year. That one will actually be a retail game that does away with the time-based play restrictions…Actually, this is all getting a bit confusing at this point, so we'll move on to the next bit of news: A new Pokemon!
Meet Hoopa, a new Mythical Pokemon for Omega Ruby/Alpha Sapphire. He's the game's first psychic and ghost-type 'Mon, labeled as a "Mischief" type.
Hoopa is "recognizable by the golden rings that adorn its horns and body, which are said to have the power to bend dimensions and move objects across great distances," according to the official announcement from The Pokemon Company.
Fans of OR/AS are encouraged to stay tuned to usual Pokemon social media for details on how to acquire Hoopa in the near future.
Your Daily Blend of Entertainment News
Staff Writer for CinemaBlend.