Pokemon X And Y Legendaries Get Named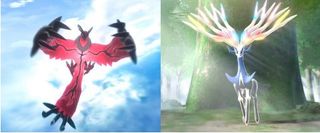 Nintendo has released the first details involving Pokemon X and Y's legendary monsters and, if you checked out our coverage of the games' announcement, it turns out you've already seen the duo in screenshots.
Yesterday we shared the official announcement that Pokemon fans would be getting a new pair of games in October of this year, complete with the first trailer. Pokemon X and Y are, appropriately enough, adding a new axis to the gameplay, letting players adventure in a third person world where Pokemon roam free and are then captured in order to participate in a vicious bloodsport.
Joystiq snagged the first details on the games' legendary Pokemon, however, introducing Xerneas and Yveltal to the world. Xerneas is that horned fellow seen above, which will be the legendary critter for the X version of the game, while the winged Yveltal will be your most coveted collectable in the Y version of the game.
If you check back on yesterday's announcement, linked above, you'll see that both Xerneas and Yvetal were shown off in the announcement screenshots. Now we have names to go with the faces, even if they are as ridiculous as ever to spell and pronounce.
Nintendo 3DS owners will get to catch these new legendary monsters, along with a whole slew of new and old Pokemon, once Pokemon X and Y launch in October of this year.
Staff Writer for CinemaBlend.
Your Daily Blend of Entertainment News
Thank you for signing up to CinemaBlend. You will receive a verification email shortly.
There was a problem. Please refresh the page and try again.