Portal 2 Map Editor Now Live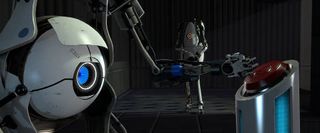 Valve has released the "Perpetual Testing Initiative" for the PC and Mac versions of Portal 2. This free batch of DLC provides players with a much-requested feature: a map editor.
The Perpetual Testing editor allows you to create new Aperture Science trials without leaving the game. The tools are said to be simplified, as well. Hopefully it's usable by someone with little map design experience.
Once your creation is done, you can then publish them to Steam Workshop, where other users can download and vote on it. Any user-made maps you select through the Workshop will be automatically downloaded and installed to your game.
Valve has made no mention of whether this editor will make its way on the PS3 and Xbox 360 versions of the game. I wouldn't count on that happening. The editor depends on the Steam Workshop, a service which isn't available on consoles. While the PS3 edition of Portal 2 has a few Steam features, Valve never announced any intentions to include Workshop in that offering. I doubt they'll put the effort into bringing such a huge feature over to consoles at this point, too. Portal 2 is, after all, already a year old.
Because we just passed the one-year anniversary of Portal 2, it's possible that Perpetual Testing is the last DLC that we'll see for the game. If so, this is a bittersweet occasion. Portal 2 is one of the funniest and most inventive games in recent memory so I wish Valve had more ambitious post-launch plans for it. They could've given the game as long of a life-span as Team Fortress 2. If nothing else, I wish they had released this editor before much of the playerbase had moved onto other games.
Staff Writer at CinemaBlend.
Your Daily Blend of Entertainment News
Thank you for signing up to CinemaBlend. You will receive a verification email shortly.
There was a problem. Please refresh the page and try again.