Powers Review: Sony's New Show Might Soar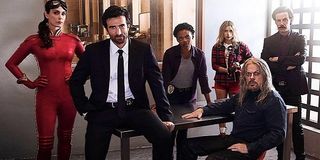 Sony took a big risk with Powers, its first ever piece of serialized, scripted content to launch exclusively for the PlayStation Network. Given that setup, I wouldn't blame anyone for rolling their eyes at the thought of original programming for a service typically devoted to video games. Color me surprised, then, to find that I really enjoyed the first trio of episodes.
Based on the comic book bearing the same name, Powers takes place in a universe where superheroes and villains actually exist. Unlike your typical comic book narrative, though, Powers grounds this fantastical premise in a more realistic world. Powers (what they call people with, you know, powers) are basically celebrities in this version of Los Angeles, getting ooed and ahhed at everywhere they go and becoming the focus of the paparazzi and gossip programming. While many Powers tend to keep to themselves like some sort of better-than-you underground society, others decide to make their abilities known, turning to a life of crime or heroism in the process.
The problem is, their antics cause actual damage and cost actual lives. To combat that, a Powers unit of the LAPD is established; a rag-tag group of officers trained in handling Powers and bringing them to justice. The poster boy of this division is Christian Walker, formerly known as the hero, Diamond. Wonderfully played by Sharlto Copley, Walker is struggling to find his place in a world where he no longer feels he belongs, having lost his own powers years ago to his former mentor, Wolfe, played by the equally wonderful Eddie Izzard.
Without diving too deep into the realm of spoilers, Walker takes on a plucky new partner, Deena (Susan Heyward), just as a massive case falls into his lap. A couple of Powers have died with an unknown narcotic in their system, a teen who worships Powers has become a hard-to-pin-down witness to one of the deaths, and a seriously evil teleporter named Johnny Royalle (Noah Taylor) seems to be putting some sinister plot into motion.
All in all, Powers is an intriguing concoction, blending the formula of a weekly police procedural with the gritty realism of something like Watchmen or The Boys, and the creative and entertaining superhero antics of a show like Heroes (As in the first season, when Heroes was actually great). Since its being released weekly on PSN, the team is even given the freedom to dish out a bit more mature content, primarily in the form of language that would make the FCC cringe. They haven't pushed the envelope too far yet, but it's actually oddly refreshing to hear an F-bomb dropped when, say, a coroner known as Doctor Death gets frustrated that his job is a mess now that the regular laws of science no longer apply.
Special effects are used sparingly, punctuating a handful of run-ins with Powers to remind us that these people basically have the abilities of Greek gods and could accidentally (or intentionally) take dozens of innocent lives in an instant. There are also quite a few creative uses of powers on display in the early goings, but I'll let you discover those fun moments for yourself.
The lack of too many fireworks also helps keep the focus on the people affected by these powered individuals, which is shaping up to be the true heart of the show. Sure Walker gets the majority of the attention in the first episode, but more and more screen time is given to the supporting cast of characters through episodes two and three, which gives us an even better understanding of their motivations. A lot of similar shows miss out on those important details, so it's nice to see it on display here in Powers. Not every scene is a winner, but there are quite a few well written conversations peppered throughout the first three episodes that force you to ponder what it would be like to really live in this world or discover that you yourself had powers.
In short, Powers is delivering exactly what I was hoping for: An intriguing story, fun characters and enough edge to make it worth the effort to launch on PSN rather than, say, FX. It's not likely to be remembered come award season next year but, after such a solid start, I'll be coming back every Tuesday to see where the story takes us next.
As a reminder, the first episode of Powers is available free to all right now through PSN and even on YouTube or the PlayStation Blog. If you like what you see, you can purchase episodes two and three, too. New episodes will roll out one at a time moving forward through late April. Of course, if you are a member of PlayStation Plus, you'll be able to get the full run at no extra cost to your regular subscription.
Your Daily Blend of Entertainment News
Staff Writer for CinemaBlend.
Your Daily Blend of Entertainment News
Thank you for signing up to CinemaBlend. You will receive a verification email shortly.
There was a problem. Please refresh the page and try again.