Powers Finally Takes Flight On PlayStation Network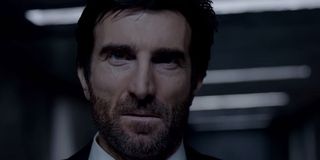 Sony's first made-for-PSN television show has finally taken off, with Powers launching today across the PlayStation Network—and YouTube, as it turns out— and additional episodes set to arrive every week through the end of April.
About a year ago, when this new generation of consoles was just getting rolling, both Microsoft and Sony seemed to be eager to test the waters of original programming for their respective online services. Since then, Microsoft has basically bowed out of the arena, moving funding into things like, I'm guessing, hololens technology. While Sony isn't exactly boasting a mega lineup for such content at this point, the publisher did decide to follow through with at least one property, a TV version of the hit comic book series, Powers.
Serialized comic book adaptations are all over the place these days. AMC got the ball rolling in more recent years with The Walking Dead and, thanks to the continued success of similar movies at the box office, shows like Gotham, The Flash, Arrow, Agents of S.H.I.E.L.D. and Agent Carter are now all the rage. Heck, even Netflix has an adaptation of Daredevil launching soon, and that's just the tip of its comic book iceberg in terms of new shows.
What sets Powers apart is the fact that it's based on a lesser known comic. Rather than bank on familiar spandex wearing superheroes, Sony instead opted to bank on a property that takes a darker, more grounded look at the world of, well, powers.
The first episode is being offered free of charge to anyone who wants to give it a gander. As a matter of fact, you don't even have to exercise your clicker finger too much to get at it, as you can simply hit the play button below…
SCEA VP of Platforms Marketing John Koller dropped by the PlayStation Blog earlier today to discuss some of the details of the show, including its release schedule. As stated above, everyone can grab the first episode free of charge. Episodes two and three will also launch today via the PlayStation Network and, as promised, the whole series will be included as part of a PlayStation Plus membership. I'm guessing individual episodes will set you back a couple of dollars each, otherwise. So if you're not too busy playing Hotline Miami 2 or salivating over the impending launch of Bloodborne later today, maybe give it a look-see.
After that, Powers will launch a new episode every Tuesday alongside the usual PSN update through April 28. Unless my math skills have failed me, that totals 10 episodes for season one.
As always, we welcome your thoughts and opinions. How was the first episode? Planning on cramming in all three launch episodes this evening? What other properties would you like to see Sony tackle? Let us know in the comments section below.
Your Daily Blend of Entertainment News
Staff Writer for CinemaBlend.