Prototype And Prototype 2 Are Now On Xbox One And PS4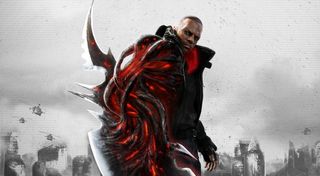 Activision made a strange announcement today: Prototype and Prototype 2 are now available in a bundle pack for the Xbox One and PS4. You can download the bundle right now from the respective console's digital storefront.
Activision's communications manager, Scott Lowe, posted a short announcement over on the official Activision blog letting gamers know that the Prototype bundle is available right now. Lowe writes...
Full HD is another way of saying 1080p. However, I find it odd that the buzz phrase isn't used. "Full 1080p support" will have the fanboys fighting over pixel counts in forum threads and comment sections. I'm sure there's someone who will argue that if it's 1080p on the Xbox One it must be capable of hitting 2K on the PS4 (although, for games as old as Prototype that may not be outside of being possible with the right optimizations). Of course, Full HD might also mean "variable resolution"... for instance Machine Games did something similar with Wolfenstein: The New Order for the Xbox One, where the resolution dynamically alters to fit the action on screen so that it stays as close to 60fps as possible.
While Lowe mentions that both Prototype games will have improved frame-rate, he doesn't explicitly state if the frame-rate is locked at 30fps without drops or if the frame-rate has been ramped up to 60fps. While a hard-lock of 30fps is pretty cool for home consoles, I think I would be more impressed if both Prototype titles were set at 60fps.
The news itself has been met with some mixed reactions. Prototype was definitely a popular AAA game when it first released on the Xbox 360 and PS3 many years ago, but the follow-up game didn't do quite as well as and developer Radical Entertainment was shutdown by Activision.
VG 24/7 noted that despite Prototype 2 being the top selling game for the month that it was released, it still suffered from poor sales on home consoles and PC.
Many gamers attributed their dislike of the game down to less-than-enthusiastic gameplay features as a sequel and the fact that the original protagonist, Alex Mercer, was no longer the character that players controlled. While the new character was liked for his story, there was a feeling of disconnect due to the change.
Nevertheless, I don't ever remember seeing or reading about any gamer asking for an HD remaster of either Prototype game for the Xbox One or PS4. Activision taking time to remake the games for the eighth-gen consoles is... noble... I guess? With the Xbox One's backwards compatibility mode due for launch this fall I imagine people who still own the older Prototype games may likely just keep hold of their discs and potentially have the opportunity to play the Xbox 360 version on the Xbox One this holiday season.
For anyone who doesn't own the seventh-gen copies of either game, you can pick up a native version for the Xbox One or PS4 right now.
Your Daily Blend of Entertainment News
Staff Writer at CinemaBlend.