Rainbow 6 Patriots Being Reworked?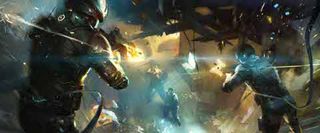 Late last year Ubisoft announced Rainbow 6 Patriots, a dark new take on their long-running military shooter series. However, now it seems that Ubisoft Montreal is reworking the project. They've made several changes to the development team.
Game Informer reports that several key personnel were removed from the team. Creative director David Sears, narrative director Richard Rouse III, lead designer Philippe Therien and animation director Brent George are no longer contributing to the game. GI notes that they interviewed all four for their cover story on the game.
Patriots focuses on a domestic terrorist group known as the "True Patriots." This group believes that the politicians and corporations exercise too much control over the United States. They launch attacks throughout the country in order to overthrow the oligarchy they believe is manipulating the country. The VGA trailer showed the group strap a bomb to a banker's chest and toss him out the window.
Players, naturally, played the role of the elite Rainbow team sent to stop these Patriots. Ubisoft said that players would need to make hard moral decisions in fighting this militia. I assume part of that is deciding whether or not to risk civilian lives.
It seemed like the development team was looking to explore the shades of grey in a war on terror. Maybe Ubisoft thought that was a little too edgy for a video game? We'll have to wait and see what changes have been made to the game.
Staff Writer at CinemaBlend.
Your Daily Blend of Entertainment News
Thank you for signing up to CinemaBlend. You will receive a verification email shortly.
There was a problem. Please refresh the page and try again.