Rainbow 6 Patriots Is Now Next-Gen game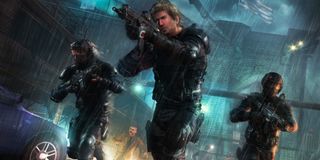 Ubisoft brought many games with them to E3 but Rainbow 6 Patriots wasn't one of them. Ubisoft senior vice president of sales and marketing Tony Key confirmed in an interview that they've decided to delay the game into the next generation.
"Sometimes you have to take a step back and go 'you know, I'm seeing the possibilities, but it's gonna take more time,'" Key told IGN. "We don't really have anything else to announce or say about Rainbow 6, but we will say it's a really exciting project for us and we can't wait to say more."
Patriots was first announced in late 2011 for the PS3 and Xbox 360. The game centered around a group of vigilantes known as the Patriots who want to take the country back from greedy politicians and corporations. The first trailer showed them tossing a banker out of his office window with a bomb strapped to his chest. Players will take on the role of Rainbow Six operatives seeking to stop the Patriots' plans.
Signs of trouble appeared in March of last year, when several high-level members of the development team were reassigned. One of the former team members reassured gamers that Patriots was still in development. However, it was pretty clear that Ubisoft was reworking some fundamental parts of the game.
Key mentioned in the same interview that Ubisoft "can't make ten giant blockbuster games at the same time." It seems like Patriots was simply put on the back-burner while Ubisoft threw their energy toward big releases like Watch Dogs, Assassin's Creed 4 and Tom Clancy's Splinter Cell: Blacklist. All three of those games are coming out this fall.
Tom Clancy fans will have plenty to look forward to in the meantime. In addition to Blacklist, Ubisoft is developing an action MMO called Tom Clancy's The Division. It's expected in 2014.
Staff Writer at CinemaBlend.
Your Daily Blend of Entertainment News
Thank you for signing up to CinemaBlend. You will receive a verification email shortly.
There was a problem. Please refresh the page and try again.