Rainbow Six Siege Beta Doesn't Actually Require Pre-Order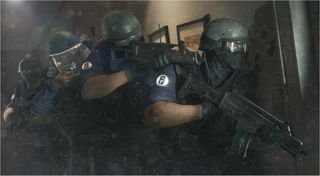 Ubisoft recently announced that Rainbow Six: Siege beta codes would be handed out to PS4 and Xbox One gamers... if they pre-ordered the game. Quite naturally, this made a lot of gamers kind of pissy because no one wants to commit to buying a game just to play-test it early to see if it's worth buying in the first place. Well, now you don't have to pre-order to get in on the beta.
Destructoid did a bit of digging and found that you don't actually have to pre-order the game to get in on the closed beta test for the PlayStation 4 and Xbox One.
Over on the Ubisoft sign-up page for the closed beta test there's a short click-through process you have to go through to register. If you don't want to pre-order the game you can opt to join the "waitlist" to be contacted about the availability of the closed beta.
If you click in through the sign-up page and you haven't already pre-ordered, you just select the platform that you own (or would like to play the beta on) and then click the "Next" button. There will be a pop-up window that will ask you to sign-in to your registered online Uplay account; your PSN or Xbox Live ID should work for this. Once you've signed in there's another screen asking you to enter your closed beta key; instead of entering the key or selecting to pre-order the game to get a key, you can opt-in to the game's waiting list where you'll have to take a short survey.
The survey will ask questions about some games you've recently played, mostly along the lines of Call of Duty, Battlefield, Halo, Destiny or Evolve, as well as any previous Rainbow Six titles released on console and PC. After that you'll be added to the waiting list, no worries about having to pre-order the game in order to potentially participate in the closed beta test. Once the sign-up is complete you should receive an e-mail notice with the following image.
After that you're all set and on the waiting list to receive some righteous news about the upcoming test for the console version of Rainbow Six: Siege.
For those of you unfamiliar with the game it's basically a first-person shooter that focuses on tactical multiplayer gameplay. During the E3 demo it was mostly focused on tactics surrounding physics-based breaching and defending.
A lot of the game centers around being able to get through various areas using explosives and high powered weapons and gadgets. You can breach through doors using door charges or tackle enemies from above or below by knocking the floor out with explosives.
The real challenge and danger in the game is that since the core of the multiplayer centers around elimination matches, you have to rely a lot on teammates to back you up, suppress and flank.
The game could be a real breath of fresh air in the competitive FPS genre if the physics-based destruction and multiplayer is handled properly. Rainbow Six: Siege is scheduled to release for the Xbox One, PS4 and PC.
Your Daily Blend of Entertainment News
Staff Writer at CinemaBlend.
Your Daily Blend of Entertainment News
Thank you for signing up to CinemaBlend. You will receive a verification email shortly.
There was a problem. Please refresh the page and try again.