Halo 5 Hunt The Truth Website Will Investigate Master Chief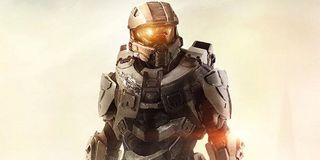 The countdown for Halo 5's teaser site, "Hunt the Truth," just ended at 9pm Eastern. Unfortunately, the big reveal wasn't as exciting as expected.
As it turns out, the countdown was simply teasing...more teases. The "Hunt the Truth" website follows a fictional journalist in the Halo universe who is trying to do an in-depth profile on Master Chief.
"For decades, I've served the galaxy as an investigative reporter and war photographer," reads the biography for the journalist, Benjamin Giraud. "Working primarily in public radio, I've covered human interest stories on Earth and in the Inner and Outer Colonies. I've also contracted for UNSC, covering governmental and military affairs. I was at New Mombasa when the Master Chief first appeared to combat the Covenant attack."
While doing research on Master Chief, Giraud heard many conflicting reports. As players, we know of him as a hero. However, some believe him to be a traitor for unknown reasons. The neat teaser trailer for "Hunt the Truth" sums up the conflicting stories being spread about Master Chief. Note the varying inscriptions on the bullet:
Giraud will release a new audio log each week in which he discusses his findings. Here's the first episode, which gives an overview of his mission:
I was hoping that the teaser site would show us something new from the game itself. There's so much we don't know about the game's campaign or multiplayer. New footage from either side of the game would have been appreciated.
That said, this site could give us some valuable insight into the story of Halo 5. We really have no clue about what's going on at all with Master Chief. The initial trailer for the game showed him wandering through the desert and apparently being attacked by a Promethean. It's still unclear where he is or why he's there.
The most concrete information we have about the game comes from Mike Colter, the voice actor for Agent Locke. Locke, a new character introduced in live-action series Halo: Nightfall, is a Spartan-IV trying to track down Master Chief for unknown reasons.
"What's not known is whether I'm a friend or foe," Colter said in an interview six months back. "The relationship between Master Chief and Jameson Locke is going to be interesting. Because, what's the outcome? Is he dead or alive? Because that's usually what a manhunt comes down to, dead or alive, but you won't know what the purpose of finding Master Chief is [right away]. Or what will happen if we do find him, what condition he will be in, and where he's at mentally. But I'm sure that'll be a plot twist in Halo 5."
I hope that these fake news reports on Master Chief give us some clue as to why he's being hunted as a traitor. It could all just end up being another empty tease, though. We'll keep an eye on the teaser site and let you know if they reveal anything interesting about Halo 5 in the weeks ahead.
Your Daily Blend of Entertainment News
Staff Writer at CinemaBlend.