Rainbow Six Siege Open Beta Delayed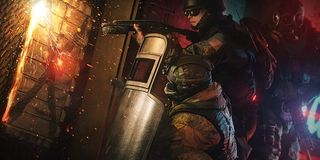 Rainbow Six Siege was supposed to enter open beta today. However, Ubisoft has decided to delay the test indefinitely.
The company rolled out the open beta to current closed beta testers yesterday and planned to let everyone else start playing it this morning. However, they noticed problems during the early access period:
In a post on the game's official forums, community manager "Jax" said that these connection issues prompted the delay of the test on PS4, Xbox One and PC:
The delay shouldn't be very substantial. Rainbow Six Siege will be launching to the public on December 1st, which is less than a week away. The big result, though, will probably be that the beta will be shorter than expected. Ubisoft had intended to shut down the open beta on November 29th, presumably so Ubisoft would have a day to get the servers ready for launch.
Siege's open beta, whenever it becomes available, will let players try out 14 of the characters available at launch. Each has their own distinct gadgets or weapons to help their team achieve victory. Players will be able to try out the player-versus-player modes Secure Area and Bomb and co-op Terrorist Hunt mode. All modes will be available on three maps: Hereford, House and Kanal. This will be the first time that players get a chance to try out Kanal, previously seen in the Gamescom trailer. The map takes players to an industrial harbor in Germany:
There's a fair amount of content there for players to try out but it's a shame they'll have less time to do it. On the other hand, I get why Ubisoft decided to delay the test rather than risk server issues. The goal of such a late beta is to drum up last-minute interest for the game and that's not going to work if players are suffering through technical issues.
Your Daily Blend of Entertainment News
Staff Writer at CinemaBlend.
Your Daily Blend of Entertainment News
Thank you for signing up to CinemaBlend. You will receive a verification email shortly.
There was a problem. Please refresh the page and try again.