Reggie Fils-Aime Rides A Real Life Mario Kart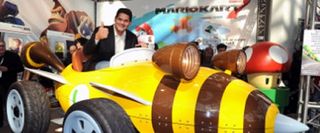 While Sony and Microsoft fight over which console can produce the more realistic graphics, Nintendo is doing something different…they're building video game properties in real life, for real.
Working with popular L.A. based West Coast Customs from MTV's Pimp My Ride, Nintendo unveiled two real-life karts from the upcoming Mario Kart 7 for the Nintendo 3DS. The two karts include Mario's flaming red-hot kart, complete with wing-gliders, as well as Luigi's bumblebee themed kart featuring a rear-propeller. As you can see, president of Nintendo America, Reggie Fils-Aime, seems to be enjoying the ride.
According to All Things SD, the karts weren't just toss-arounds for the sake of making real-life properties based on video games. Nintendo was using the opportunity of the L.A. auto show to showcase the karts and get people piqued for the upcoming handheld exclusive, Mario Kart 7. For those of you wondering how Nintendo and West Coast Customs came together, it's not that surprising given that they provide many custom cars for video games since Midway's mediocre PS2/Xbox title L.A. Rush way back in 2005.
The karts are currently on display, right now, at the L.A. auto show in the Los Angeles Convention Center. If you plan on taking a peek at the cars before some lucky winner gets to take one home in a GameStop Powerup Rewards Contest you might want to head out there before November 27th.
Mario Kart 7 is set for release on the Nintendo 3DS beginning December 4th. For more info on the game feel free to drop by the Official Website.
Your Daily Blend of Entertainment News
Staff Writer at CinemaBlend.
Your Daily Blend of Entertainment News
Thank you for signing up to CinemaBlend. You will receive a verification email shortly.
There was a problem. Please refresh the page and try again.