Report: Modern Warfare 3 Being Developed By Three Studios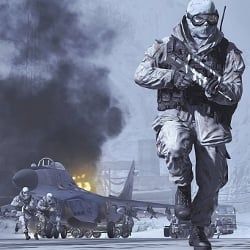 Infinity Ward developed the first two Call of Duty: Modern Warfare games on their own. However, for the third game it seems they needed to call in some outside help.
The LA Times reports that Modern Warfare 3 is being produced by three Activision-owned studios: Infinity Ward, Sledgehammer Games, and Raven Software. IW and Sledgehammer are said to be equal contributors on the single-player campaign. Raven, meanwhile, is tasked with handling the online portion of the game.
Why can't Infinity Ward handle the project on their own? Well, it all started last March when Activision axed IW founders Jason West and Vince Zampella. After filing lawsuits against their former employer, West and Zampella formed a new studio called Respawn Entertainment. A number of IW employees left soon afterward to join Respawn. It seems IW hasn't gotten back up to full strength yet.
Call of Duty is such a huge franchise for Activision that you can't blame them for pooling their resources like this. However, one consequence of bringing Sledgehammer onto the project is that it delays their own game, a COD spin-off rumored to be set in the future.
Staff Writer at CinemaBlend.
Your Daily Blend of Entertainment News
Thank you for signing up to CinemaBlend. You will receive a verification email shortly.
There was a problem. Please refresh the page and try again.