Resident Evil 6 Rated For Xbox One And PlayStation 4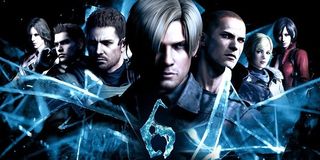 Well it looks like Capcom might be looking to resurrect yet another last-gen game on the PlayStation 4 and Xbox One, as Resident Evil 6 has been rated for both of those consoles in Korea.
If a game is going to rise from the dead and come back to haunt modern players, it makes sense that is would be the Resident Evil series, which is utterly packed with all sorts of undead monstrosities.
News of Resident Evil 6's possible exhumation comes to us from Gematsu, who inform us that the game officially been listed for rating by the Korean Rating Board.
Resident Evil 6 first crawled onto the scene in 2012 when it launched for the PlayStation 3 and Xbox 360, and was then launched on PC the following year. The most recent chapter in the tale of Racoon City and its deadly (and eventually global) zombie outbreak, it makes sense that Capcom would want to use an updated version of the game to build buzz for their upcoming first person shooter, Umbrella Corps.
Early reports point to Umbrella Corps being a first-person online shooter, which would certainly be a dramatic departure from the Resident Evil formula. Then again, many would argue that the series has been "dramatically departed" from its formula following Resident Evil 3. The series became less about surviving a deadly outbreak with limited resources and more about action-heavy encounters, stylish cutscenes and ridiculous characters.
It's a bit odd that Capcom would want to focus on bringing Resident Evil 6 to modern consoles since it didn't receive the warmest of welcomes when it was originally launched. It sits at a 67 critic score on Metacritic, which isn't exactly terrible, but fans have the game listed at a much lower 49. Then again, maybe they'll be adding in some fun new features that will convince naysayers to give Resident Evil 6 a second try. Either way, bringing an old game back from the dead on newer consoles is pretty much common practice these days, so I suppose I shouldn't be too shocked if Resident Evil 6 joins those ranks.
As always, we're interested in hearing what our readers have to say on this matter. Did you miss out on Resident Evil 6 and would you welcome a remastered version on newer consoles? Did you love the original game and see a second purchase in your future? Are you in the camp that feels like maybe Capcom should have picked another title, maybe one that was well received, to bring to the new generation? If so, what game would you like to play a remastered version of? Let us know in the comments section below.
Staff Writer for CinemaBlend.
Your Daily Blend of Entertainment News
Thank you for signing up to CinemaBlend. You will receive a verification email shortly.
There was a problem. Please refresh the page and try again.