Resident Evil Revelations 2 Features Detailed, Runs At 1080p, 60fps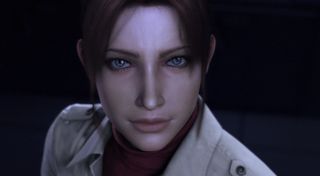 A ton of new details have been revealed for the upcoming Resident Evil Revelations 2, the horror-survival title from Capcom. The game will feature two female protagonists, a single or cooperative mode and an aim to bring the series back to its horror-survival roots.
Over on NeoGaf there's a detailed layout of what Capcom has planned for the sequel to Resident Evil Revelations. The info actually comes from GamesMaster Magazine [via Push Start].
What we learn is that the game will put players back into the role of Claire Redfield from previous Resident Evil iterations. Players will also be partnered with Barry Burton's daughter Moira Burton. For those of you who don't remember, Barry Burton was one of the S.T.A.R.S., members in the original Resident Evil. For additional context, this is Barry's most famous scene:
In Resident Evil Revelations 2 Moira won't be a hard-knuckled fighter like her father. Instead, Moira will be Claire's healer and will mostly work as a support character rather than a tank. Claire, on the other hand, will have a lot of melee moves and tactical advantages even when she isn't armed.
Moira won't just be a healer for Claire, though, she'll also be able to heal herself in addition to manning the flashlight and offering "general support".
While some people complained about the co-op modes in previous Resident Evil titles, two-player co-op will be making a return. This time, however, the focus will be more about players working together to survive as opposed to being a zoomed-out version of Call of Duty.
According to producer Michiteru Okabe, the game is moving away from the action-oriented ties of Resident Evil 5 and Resident Evil 6. Although, to be fair, the first half of Leon's campaign from Resident Evil 6 was pretty awesome and it featured the classic zombies as depicted in most of George A. Romero's movies. The problem was that the rest of the game was over-the-top Uwe Boll meets Paul W.S. Anderson quality storytelling and gameplay.
According to Okabe...
That's a good route to take. Surprises are what keep the experiences fresh.
I like that they acknowledge that fan feedback played a part in getting the game back to its roots. Too many AAA publishers have been attempting to chase the revenue stream of something like Call of Duty and they have lost focus on what the brand identity was supposed to be for some titles; Resident Evil was one of those brands.
Okabe goes on to say...
A new enemy type has also been added that will give players a serious challenge called the "Affected". They didn't specifically detail how it would be challenging outside of saying it's fast and does a lot of damage.
Last but not least, it was mentioned that the game will run at a blistering smooth 60 frames per second at 1080p on the Xbox One, PS4 and PC. Resident Evil Revelations 2 is due for release in 2015. The game will also be available on the Xbox 360 and PS3, but it won't be 1080p at 60fps on the older consoles.
Your Daily Blend of Entertainment News
Staff Writer at CinemaBlend.