Resident Evil Revelations 2 Announced With New Trailer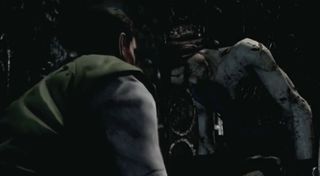 Capcom released two new trailers from a Sony PlayStation event in Japan that was not the Tokyo Game Show. The two trailers consist of showing off the newly announced Resident Evil Revelations 2, as well as a gameplay video for the upcoming Resident Evil Remake for the new generation consoles.
The trailer above isn't really all that straightforward and reminds me a lot of that Dead Island cinematic trailer. The biggest difference (besides not being backwards) is that it's really kind of difficult to understand completely what's going on. It looks like the little girl stops and points at the end while those who used to be human are slowly turned into the undead.
The clip has no further context other than the little girl running into what looks like a hungry horde of zombies.
As far as what the game is about and what players will do, Capcom stays completely mum on that front. As mentioned in their press release, the only thing gamers can expect is more information in the "near future". The game will be cross-generational, though. So it's still going to be made for the PS3 and the Xbox 360 in addition to releasing on the PS4 and Xbox One.
Capcom also let loose a new trailer featuring real-time gameplay of the HD re-release of Resident Evil Remake for the PS4 and Xbox One. You can check out it out below.
Much like the trailer at the top of the article, the run-time is pretty short and it's hard to really see much going on other than small snips and flashes from different cinematic sequences and gameplay clips.
As you would imagine, it's all the same stuff you would have expected from the Wii version just at 1080p and 60 frames per second.
A lot of the game just kind of looks like a rehash of what was already released on the Wii, right down to the animations. I'm kind of wondering what the whole point was of going through the process of re-lreasing the game if it's essentially just the same thing with a buff in resolution and frame-rate?
Anyway, both games are scheduled to release in early 2015. Resident Evil Revelations 2 and the HD iteration of Resident Evil Remake are both going to be made available for PC, new and old generation consoles alike.
You can learn more by paying a visit to the official Resident Evil website.
Staff Writer at CinemaBlend.
Your Daily Blend of Entertainment News
Thank you for signing up to CinemaBlend. You will receive a verification email shortly.
There was a problem. Please refresh the page and try again.