Resident Evil Revelations PC Screenshots, System Requirements Released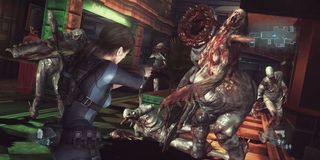 Capcom provided some fresh information on the upcoming PC port of Resident Evil Revelations. They've sent out screenshots showing off the visuals Revelations will be capable of on that platform, and also announced what kind of computer you'll need to run the game.
Revelations debuted on the Nintendo 3DS last year. The game was set between Resident Evil 4 and Resident Evil 5. The newly formed BSAA must stop a terrorist organization named Il Veltro who has unleashed a new mutative plague. Players take on the role of long-time series vets Jill Valentine and Chris Redfield.
The PC version was announced in January. Capcom promised improved visuals, a new difficulty level, and an improved Raid Mode. The game is also being developed for the Xbox 360, PS3, and Wii U.
If you plan on playing Revelations on PC, here are the minimum and recommended system specs from Capcom:
OS
Required: XP or later
Recommended: Vista or later
CPU
Required: Intel® Core™ 2 Duo 2.4Ghz or better | AMD Athlon™ X2 2.8 Ghz or better
Recommended: Intel® Core™ 2 Quad 2.7 Ghz or better | AMD Phenom™ II X4 3 Ghz or better
Memory
Required: 2 GB RAM Recommended: 4 GB RAM Hard disk space: 8GB or more
Display
Required: 800×600 or higher Recommended: 1280×720 or higher
DVD drive
Required: DVD9-compatible
Video card (onboard graphics not guaranteed to work)
Required: VRAM?256MB or more | NVIDIA® GeForce® 8800GTS or better | ATI Radeon™ HD3850 or better
Recommended: VRAM?512MB or more) | NVIDIA® GeForce® GTX 560 or better | ATI Radeon™ HD6950 or better
Sound card
DirectSound supported with DirectX9.0c or better
Input device
Required: Mouse & keyboard
Supported: Gamepad (Xbox 360® Controller for Windows® recommended)
Direct X
Required: DirectX® 9.0c or later
Network connection
Required: Steam used for network connections
The console and PC versions of Revelations will debut on May 21st in North America and on May 24th in Europe.
Image 1 of 5
Your Daily Blend of Entertainment News
Staff Writer at CinemaBlend.
Your Daily Blend of Entertainment News
Thank you for signing up to CinemaBlend. You will receive a verification email shortly.
There was a problem. Please refresh the page and try again.