Rock Band 4 Kicks Things Up A Notch With Its Latest 10 Tracks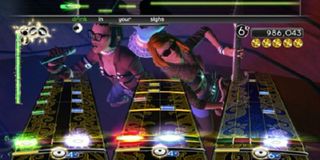 As we march ever-closer to the release of Rock Band 4, Harmonix keeps letting slip new details to ensure we're on our toes.
GameSpot reports there are 10 new tracks that have slipped out now for the music and rhythm game, and this time around I can really dig what's on the docket.
We get the seminal "Short Skirt, Long Jacket" from Cake (a personal favorite of mine) and Soundgarden's "Superunknown," two '90s tunes that are important to me. In fact, this new offering is very '90s-heavy, which gives me hope that the complete track list will follow suit when it comes to new song deliveries and the like.
The full song list is below:
.38 Special – "Caught Up In You"
Arctic Monkeys – "Arabella"
The Both – "Milwaukee"
Cake – "Short Skirt/Long Jacket"
Little Big Town – "Little White Church"
Lucius – "Turn It Around"
The Mighty Mighty Bosstones – "The Impression That I Get"
The Protomen – "Light Up The Night"
Soundgarden – "Superunknown"
Tijuana Sweetheart – "Pistol Whipped"
I'm particularly excited about the inclusion of more Arctic Monkeys, especially "Arabella," but hopefully this means we'll see more tracks in the Rock Band Music Store from the band, whose album AM is full of hit after hit that I'd love to see in the game. Soundgarden is another great choice, as would be new songs from Audioslave. There are too many songs to count that I'd like to see make an appearance, though. Just that would be an article on its own, but then the game doesn't exist to cater to my specific song requests, after all.
Rock Band 4 will include 60 tracks in its main game and thousands in its DLC catalogue. You can import tracks you've previously purcased in earlier installments as well to sweeten the deal, which is good news considering most of my paychecks during Rock Band 3's debut went to broadening my options when it came to sit-down karaoke time.
I'm still not totally excited over the song offering just yet, but I'm hoping this console generation will be one where we see full album releases again from artists other than Jimi Hendrix and No Doubt, perhaps some newer tracks and all that. Van Halen's in the game too, if you forgot. Regardless, I'm excited to see what comes of Rock Band 4 and I'm bursting at the seams when it comes to waiting for the game to come out. Seriously, it can't get here soon enough.
Your Daily Blend of Entertainment News
Your Daily Blend of Entertainment News
Thank you for signing up to CinemaBlend. You will receive a verification email shortly.
There was a problem. Please refresh the page and try again.