Rumor: Battlefield: Bad Company 2 Beta Begins November 19th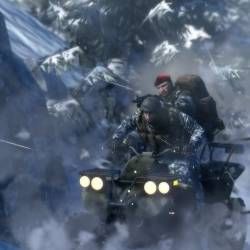 DICE indicated last week that Battlefield: Bad Company 2 could get a beta. Today Gamestop outed the beta and even provided a launch date.
For the next 24 hours, GameStop is offering "free overnight shipping, plus access to the Battlefield Bad Company 2 Beta beginning November 19th, 11PM PST" for PS3 pre-orders of the Limited Edition of Battlefield: Bad Company 2. The deal is said to expire on November 3rd at 11 am CST.
There's been no official announcement of a beta by DICE yet. There's no mention of the Xbox 360 or PC versions getting a beta. You'd expect at least the Xbox 360 to get the beta though, wouldn't you? More details should be a-comin' soon enough.
Update #1: The official BFBC2 Twitter seems to be throwing cold water on this deal. "Do not pre-order #BFBC2 from anyone for a Beta code until it's confirmed by DICE on Twitter and the Blog. Even if it's #GameStop!!!!"
Update #2: An EA spokesperson has told Blend Games that beta details will arrive later in the week. No indication as to whether or not the November 19th date is legit, though.
Update #3: Gamestop's now apparently swapped out the Bad Company 2 deal for a Ninja Gaiden 2 discount.
Staff Writer at CinemaBlend.
Your Daily Blend of Entertainment News
Thank you for signing up to CinemaBlend. You will receive a verification email shortly.
There was a problem. Please refresh the page and try again.