Rumor: Half-Life 3 Announcement Coming In 60 Days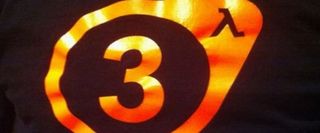 The rumor mill since just before the Spike TV VGAs has been fuming with talk of Half Life 3 ever since Valve employees have been sporting Half Life 3 t-shirts. Well, things escalated to the next level when a source for Valve's ARG tweeted a countdown for a possible Half-Life 3 announcement.
N4G, the news aggregator for gamers, has been filled to the brim with speculation and talk about Half Life 3 ever since the t-shirts came around, as pictured in the main image of this article. Well, originally people thought Valve was trolling real hard and getting gamers' knickers all up in a bundle just because they can. However, at this year's Spike VGAs there seemed to be some hidden codes embedded in the trailers.
According to Vivid Gamer, they picked up on the tweets by Doug Rattmann, who enigmatically posted "Min: 60 days, Max: Unknown".
This follows on the heels of the Wheatley trailer from the VGAs -- deciphered by Vivid Gamer in what is either the most obsessed form of desperation or really, really good decoding skills and if it's the latter maybe they should work for the CIA -- which unveiled translations for Half-Life's Lambda symbol as well as many other clues related to the highly lauded franchise, Rattmann let loose the tweet simply saying "It Begins".
This @Doug_Rattmann tweeter also handled the tweet announcements for Portal 2, so there's some form of credibility there in regards to the source of the information.
The real question is whether this is just more of Valve trolling or if there is some legitimate fuel to this rumor fire. I guess we'll all know 60 days from now.
Your Daily Blend of Entertainment News
Staff Writer at CinemaBlend.