Rust Patch Adds Playable Guitars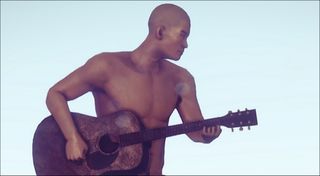 One thing you probably didn't expect you would ever see in the open-world survival game Rust is the ability to play guitars. However, lead designer Garry Newman just announced that you can now strum an instrument while you attempt to survive.
Over on the Playrust.com dev blog, Newman – the famed creator behind Garry's Mod and this DayZ-style survival game – posted up some new updates on what's been added and what's being added to the game.
The guitar idea came about when Newman was fishing around the creative well while looking at a naked character with a spear and thought to himself that a guitar would look good and well in the place of that spear. With that thought in mind, Newman proceeded to the asset store and downloaded a guitar.
As noted in the blog post, Newman writes...
Well that's good. We could always use more useless items in games. In fact, I actually believe that usable yet useless items are sometimes the best ways to extend a game's replayability and interactive functionality.
I mean, think about it: Garry's Mod is composed of all sorts of useless junk that you can interact with, from ragdoll models from other games to recreations of Freddy Fazbear's Pizza Parlor to the Dodge Charger from the Fast & The Furious, . The fact that gamers have the opportunity to mess around with these things like a kid playing with action figures makes Garry's Mod that much more engaging.
While Rust is essentially a pointless 3D survival game, it's a pointless 3D survival game with heart. The open-air schlong that swings around mercilessly combined with the Minecraft-esque crafting and building structures, along with the unorthodox weapons and items (such as the guitar) all help give Rust a unique identity away from other popular survival games like DayZ or H1Z1.
In fact, I would love to see more useless items added to Rust. It would really help give the game even more of an identity and continue to create separation from the competition out there.
As for the rest of the update featured in the developer blog entry 55, it covers tons of new fixes for the game, from fixing the queued damage effects to fixing network toggle exploits. They've also tweaked the animal speed and decals getting stuck in memory. Facepunch also added a sliding bar for the grass because people complained about the grass causing them optimization issues. A new shader slider enables players to reduce the complexity of the shadows in the game to boost performance on low-end PCs.
Rust is available right now and you can pick up a digital copy from participating distributors. You can learn more about the game and the recent patch by visiting the official website.
Your Daily Blend of Entertainment News
Staff Writer at CinemaBlend.
Your Daily Blend of Entertainment News
Thank you for signing up to CinemaBlend. You will receive a verification email shortly.
There was a problem. Please refresh the page and try again.